Conformist – Paid To Fake It
aaamusic | On 16, Jul 2012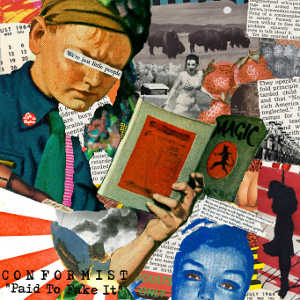 I'm finding it slightly hysterical that by virtue of this, well, not being a classical album, the first album by Pembrokeshire born, Cardiff based artist (in every sense of the word) Conformist, known to his mum as Michael Simmons, will be called a "Pop" album. This is because I could think for hours and not fathom anything else that's more likely to send most people into fits of confused rage than this… album, I guess. Seriously, I hesitate to call this music, it's almost performance art in it's utter disregard for the listener and any other possible consumers. For that reason I fucking love it, to stake my claim for the understatement of the century however, chances are not many other people will feel the same way. Imagine Aphex Twin at his most perverse with a basic knowledge of dubstep and a malfunctioning portable television and… actually that might be the audio apocalypse, this isn't quite as terrofying as that would be, but it's not that far off.
There are at least parts that could definitely be called danceable, like guitar driven first single Savages Go Modern, but considering that most of the album is made up of samples from "cable TV shows, shopping channels, talk shows, pornos, the dregs of TV" among others, one shouldn't be expecting something catchy in the traditional sense. Truth be told there isn't all that much else to say about the album, it a nigh on unfathomable listen that one should only seek out if, like me, you have a hard on for contrary bastards making the most out there pop songs imagineable. I'm not going to blow you're mind when I say, most people don't and, truth be told, they may have a point. This album can get very repetitive and once the novelty of it sounding fucking strange wears off then it relies on the strength of it's hooks… which a lot of tracks straight up do not have.
When it's good, it's ridiculously exciting, the last minute or so of Big City Buzz Band laughs in the face of Skrillex's commercialised, macho brostep by sounding huge, fast, threatening and completely unique in the same passage. It's a good sign that it's never outright bad, it just gets more bewildering to the point where it's difficult to follow, Mr Grosse and Mr Playfair sounds more like the soundtrack to a Sci-Fi horror film than anything else, and there's room for that, definitely worth a listen, but not many more afterwards. To sum up, for most this will be a very easy album to respect but not to love, for some this will be an unlistenable mess of the highest order, for me I can't help but admire something created so much for the artists pleasure and no-one elses, so as much as the Belle and Sebastien fan in me will hate it, I must recommend this ugly, awesome album.
Will Howard