ATP announce first bands for Nightmare Before Christmas curated by Shellac festival
aaamusic | On 17, Jul 2012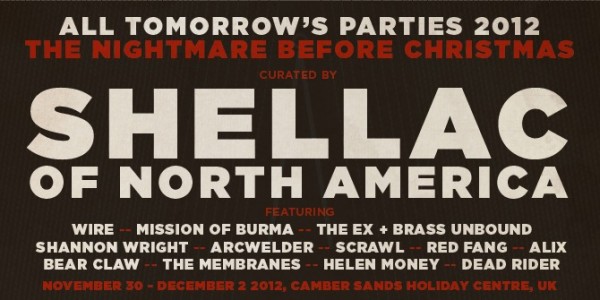 All Tomorrow's Parties announce first bands for…
Nightmare Before Xmas curated by Shellac Of North America
November 30th – 2nd December 2012 at Pontins, Camber Sands, UK
– Wire, Mission Of Burma, Scrawl, The Ex and more confirmed –
Remaining Tickets On Sale Now via www.ATPFestival.com
Last month to celebrate a return to the festival's original home; the recently refurbished Pontins Camber Sands Holiday Camp; All Tomorrow's Parties announced a Nightmare Before Christmas festival event curated by SHELLAC OF NORTH AMERICA to help celebrate their 20th anniversary as a band.
We look forward to returning to the festival's spiritual birthplace for an incredible weekend – Shellac headline and choose the rest of the 35 band bill playing across the event on the venue's excellent indoor stages featuring award winning sound, with DJs until late, Cinema and much more.
Two thirds of the event's tickets have been sold in the month since our initial announcement, with some apartment sizes now gone. The first artists for the event are announced today, and here is how the line-up now looks with much more to come:
SHELLAC OF NORTH AMERICA
WIRE
MISSION OF BURMA
THE EX + BRASS UNBOUND (Mats Gustafsson/Ken Vandermark/Roy Paci/Wolter Wierbos)
SHANNON WRIGHT
ARCWELDER
SCRAWL
RED FANG
ALIX
BEAR CLAW
THE MEMBRANES
HELEN MONEY
DEAD RIDER
All tickets include accommodation in private apartments for you and your friends. Some chalet sizes are already sold out so act fast to secure the size you want.
Tickets for ATP's Nightmare Before Xmas curated by Shellac Of North America are priced at £180 per person including festival entry + accommodation on sale now via www.ATPFestival.com
REMAINING INSTALLMENT TICKETS
ATP have a small amount of room left on the deposit scheme for the festival to make it easier for some people to pay. We are offering a limited number of 4 + 6 berth apartments to be paid for with a deposit upfront, and the remaining amount to be paid by the end of September. Both come with a booking fee of £7.50 per person (£30/£45 per apartment).
People who would like to hold a 4 berth self catering, must pay a deposit of £80 per person, (£320 for the apartment). The remaining £107.50pp each (£430 for the apartment) must be paid by September 30th.
People who would like to hold a 6 berth self catering, must pay a deposit of £80 per person, (£480 for the apartment). The remaining £107.50pp each (£645 for the apartment) must be paid by September 30th.
As we will be holding the apartments for you, all deposits will be non-refundable, so please only apply if you are sure you can pay the remaining amount when it is due in September. Please email deposit(at)atpfestival.com with SHELLAC DEPOSIT in the email subject line if you would like to take part in the deposit scheme. Please include your name and address. You will then be given details of how to pay. Chalets will be granted on a first come first served basis and you will need to pay your first deposit within one week of acceptance.
ABOUT THE VENUE / MORE INFO:
The event takes place at Pontins Holiday Camp, East Sussex over three days from, Friday 7th – Sunday 9th December 2012. Check in begins on Friday at midday/noon and Check out occurs on Monday morning at 10am sharp. The event is held in a holiday resort so all tickets include a pass to the festival + 3 nights accommodation in private apartments. Each chalet is self-catering and has a small kitchen with cooking/dining utensils included, bathroom with either a shower or bath and of course a sink & toilet. The TV area doubles as a bedroom with a roll out sofa bed, and then there will either be one or two bedrooms with the relevant numbers of beds. Bedding is included in the chalets.
So you basically stay on site in your own private accommodation with your friends for 3 nights and you ALSO get a pass to see all of the bands perform over 3 days, plus bar with DJs until early in the morning, free cinema programme, use of site facilities and much more! Apart from nursing a   hangover, there is a swimming pool, go-karts which are both free of charge, arcades, a beautiful beach across the road, the local pubs and of course Rye Village where there are some very nice places to eat. Camber Sands is easily accessible via train to Rye (followed by a short bus/taxi ride).
Need to find people to share an apartment with, or want to find a space in someone's apartment? Check out the community at Facebook.com/AllTomorrowsPeople.
ABOUT ALL TOMORROW'S PARTIES
All Tomorrow's Parties has been promoting festivals and concerts throughout the world for the last twelve years. It was founded in the wake of Belle and Sebastian's Bowlie Weekender, with Mogwai curating in the unusual setting of Pontins Holiday Camp, Camber Sands. Since then the festival has appeared every year and has expanded across the globe continuing to set itself apart from large scale corporate festivals by staying intimate and fan-friendly. The line-ups are chosen by significant bands or artists which results in eclectic events that combine performances by legendary and influential acts with appearances by the latest crop of experimental artists from any (and every) musical genre. The festival has become more successful with every passing year, and ATP events have taken place in the UK, USA, Europe and Australia, with past curators including Nick Cave & The Bad Seeds, Mike Patton, My Bloody Valentine, Portishead, Sonic Youth, Slint, and Tortoise. In 2011 ATP launched a new series of curated city-based events called I'll Be Your Mirror, with events so far taking place in Tokyo, London and Asbury Park, New Jersey.
For over 12 years ATP has set itself apart from other festivals by embracing seemingly disparate artistic genres, with events featuring art exhibitions, cinema programmes, spoken word performances and stand up comedy. It's been called 'Unforgettable' by Spin and 'the most enjoyable festival experience of our reporter's life' by Pitchfork. It has spawned an acclaimed concert series (Don't Look Back), a record label (ATP Recordings), and the release of a feature length documentary about the festivals from Warp X, titled All Tomorrow's Parties, out now on DVD. For more information and the trailer visit www.ourtrueintent.com