Fighting Fiction announce UK tour, release new single next week
aaamusic | On 23, Jul 2012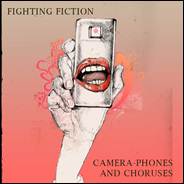 Kerrang! 4/5 – Rock Sound 8/10 – Big Cheese 4/5
New single 'Cameraphones & Choruses' & summer tour
Brighton quartet Fighting Fiction release their fast paced, thought provoking new single 'Cameraphones & Choruses' through Xtra Mile Recordings on 30th July 2012 featuring exclusive B-side 'Done up to the Nines'.
Having just won over an army of new fans with their performance at The Great Escape festival Fighting Fiction are now ready to release the next single to be taken from their Mark Williams (Oceansize, Million Dead, Yourcodenameis:milo, Biffy Clyro & Enter Shikari) produced debut album which was met with high praise from the press when released earlier this year.
Speaking of the band's debut Kerrang! magazine said it's a "striking and stirring debut from sussex-based punks" (4K's). While Big Cheese felt that Fighting Fiction are a "rock band that proves that the DIY rock scene is in safe hands" (4/5) with Rock Sound also praising their debut record saying it was "Layered with pop sensibilities and an undertone hinting at eclectic tastes, the self-titled full-length has a personal touch that is, above all, refreshing" (8/10).
The bands keen approach to touring has seen them play alongside Frank Turner, This Town Needs Guns, The Riot Before, The Xcerts, Laura Marling and Crazy Arm; as well as festival appearances at The Lock Up Stage at Reading and Leeds Festival, The Isle of Man TT, The Isle of Wight and 2000Trees.
Catch the band on tour this summer at the following venues:
July 25th Karma Cafe, Norwich
July 26th Scream Lounge, Croydon
July 27th The Boileroom, Guildford
July 28th The Wheelbarrow, London
Aug 3rd Unit, Southampton, Off With Their Heads
Aug 17th The Underground Music Bar and Nightclub, Swansea
Aug 19th Live Bar, Truro
Aug 20th @Gloucester Studio, Gloucester
Aug 22nd The Parish, Huddlesfield
Aug 23rd The Lomax, Liverpool
Aug 24th The Chemic Tavern, Leeds
Aug 25th Railway Tavern, Nuneaton
Aug 27th The Black Heart, Camden
Aug 30th The Swan, Ipswich
Aug 31st Scorpios, High Wycombe
Sept 2nd Unit, Southampton w/ Calvinball, Franz Nicolay and more
Sept 27th Sticky Mike's Frog Bar, Brighton
Sept 28th The Mulbarry, Farnham
Oct 19th The Parrot, Carmarthen (Wales)
Oct 20th Gwyn Hall, Neath (Wales)
Nov 16th The Palladium Club, Bideford
Nov 17th The Frog And Fiddle, Cheltenham