ANNA MACDONALD – Paper Flowers EP
aaamusic | On 06, Aug 2012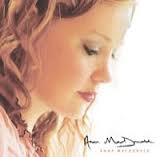 Anna Macdonald is a Glasgow based folk singer-songwriter who plays piano, guitar and harp.
Her Paper Flowers EP is released on 6th August, 2012 on Firebreach Records. It's co-produced by Anna and Fraser Fifield, with contributions from Graeme Stephen, Suzanne Houston, Mike Vass and Mario Caribe.
In Paper Flowers, a song with an angelic tone and Celtic feel, she sings of the tragedy when beautiful flowers wither and die.
Her version of the traditional Matty Groves, a sad and violent tale that's built on a simple melodic hook, probably seems very restrained for those who are familiar with the Fairport Convention song.
In Glasgow Rain, she atmospherically paints a picture of her city and her piano sounds like faint droplets of rain in the background. Her remaining two songs, Naj's Song and Banks of Inverurie, are sung with a similar purity and clarity.
To fans Anna is a skilled, talented artist who has urgency and brilliance. She combines Scottish and Gaelic traditions with English folk and her fine ballads, sung with a captivating voice, are excellent in pitch and sound. To critics she has a slightly annoying voice that accompanies music that needs greater energy.
Anna is a gentle and thoughtful artist who quietly tells about solitude and lost love with drama and poetry, so give her a chance and listen to what she has to say.
Anthony Weightman