A CHAT WITH: BULLET
aaamusic | On 07, Aug 2012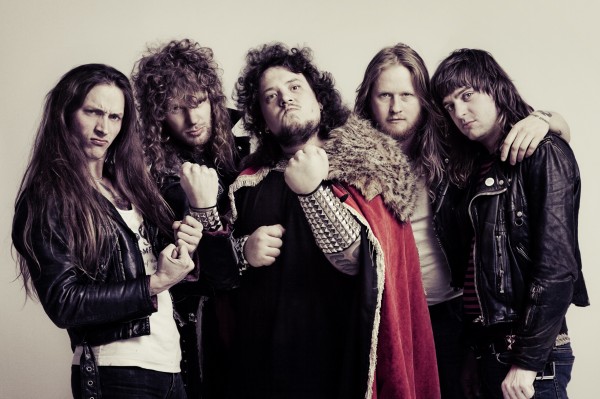 Daniel Cairns chats to rockers Bullet about their classic sound and where it comes from.
AAAmusic: Let's talk about your new album 'Full Pull': how different is it from your previous works?
Bullet: We have become old enough to dare to experiment to get the sound we're after. We have a piano for the first time and have also worked with acoustic guitar and choirs.
AAAmusic: The cover of your new album has a quite striking lion how did you decide on this image?
Bullet: We wanted to have a lion because it's an untamed beast.
AAAmusic: What bands are your biggest influences?
Bullet: All bands belonging to the heavy metal in the 80s, such as Judas Priest, Twisted Sister,  Iron Maiden,  Accept, and also of course AC / DC.
AAAmusic: There was a band in the seventies called Bullet – do you have get mistaken for them?
Bullet: Not really. But one of our best friends from Germany brought me the German Bullet album as a gift on our release party.
AAAmusic: On new track 'Full Pull' there is major hints of AC/DC and Queen. Did you have posters of these bands on your wall when you were a kid?
Bullet: Of AC/DC yes, but I was too young to understand the greatness of Queen at that time. I appreciate the comparison.
AAAmusic: If you could play a gig with any band who would they be?
Bullet: A split headliner tour with AC/DC would be great! He he.
AAAmusic: If you were a bullet and you had to be put in a gun what gun would it be?
Bullet: AK 47. The gun of all guns.
AAAmusic: How would you best describe the look of the band?
Bullet: We look like we sound. With a little overweight.
AAAmusic: Are you touring and if so where are you playing?
Bullet: Our tour starts September 16, please visit our web page for details. Www.bullet.nu
AAAmusic: What are the next steps for Bullet?
Bullet: Touring, touring and touring. It will be great to be out on the road again!
Daniel Cairns