A Chat with Dirty Goods
aaamusic | On 07, Aug 2012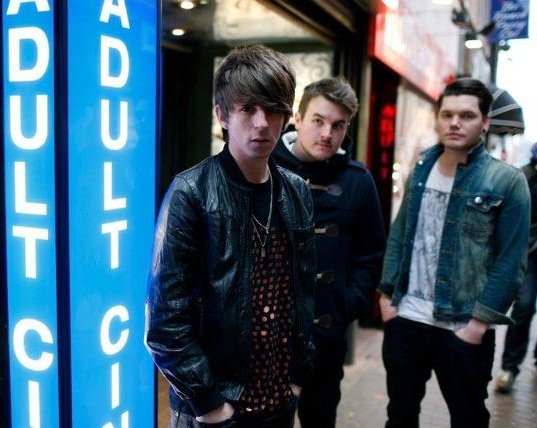 Hailing from Newport Dirty Goods are fast becoming the hottest electro act around. AAAmusic got the chance to chat with Antony J "Wylee" Smith (Vox& Guitar) James "Woody" Wood – (Bass Keys Vocals)   and Mikee Gregory (Drums, Percussion &Vocals) to hear all of the exclusive info on their upcoming single "Know No Other" featuring rising rap star Fernquest. Find out what they had to say below!
Hi guys, we are loving the new single "Know No Other" here at AAAmusic, can you tell us how the collaboration with Fernquest came about?
The collaboration came about quite quickly, we had heard some of his stuff via the internet and heard good things word of mouth from people on the south Wales scene and thought we should get him to jump on a tune, we wrote and recorded know no other in an evening after a few cans and then got in contact with him a few days later. He came straight down and loved the track. Got straight in the booth with a biro n some paper, not long after know no other was finished.
Any other artists that you would like to collaborate with?
It is always good to collaborate with different artists, bringing something new/ a fresh element to an idea can often elevate a song to a whole new level. There are a lot of artists out there that it would be interesting to collaborate with- I think it all depends on the song and who's up for it, we tried getting prince on his pager last week but had no luck. I think it would be good to get Rick James back from the dead and in the studio, maybe not on a song but for a party. We could write about it after.
You guys are touring the UK for the next couple of weeks, what can fans expect from your live show?
You can expect a lot of energy on stage and a lot of enthusiasm towards us partying at your house after. We will be playing all the tracks from our mini album and possibly a bit of something else for good measure. It will be good to get out to the cities we have not yet played in on previous tours.
Is there anywhere in particular that you enjoy playing live?
There are some great venues in the UK- we  enjoy playing anywhere.. .it was great to play venues like Shepherd's Bush Empire and HMV forum in Kentish town but then it's also great to play smaller intimate venues like Sunderlands little rooms and Baths Moles club. We've also had a great time playing out of the UK- Paris, New York and LA are great places to go and those Lithuanians know how to party.
Can you tell us a little bit about the tracks on your self- titled mini-album?
There's an eclectic mix of tracks on the mini album, from the more guitar based feel of tracks like 'Hollywood' and 'surely not' to the more dance orientated 'last night' and 'don't like dancing' The mini album is a teaser, something to start you off. We have many more tracks for our full album and many up our sleeves waiting to go. This is only the start.
When Dirty Goods go to write a song, what is your writing process?
We don't really have a specific writing process, it happens differently every time. Most of the tracks were written in the studio and built up gradually with everybody's input. Sometimes it will start with a few chords a and vocal line and other times a whole track would develop before any melody or vocals are written. We approach every song differently.
Orna Lyons
You can catch Dirty Goods at Proud Camden on Thurs 9th August, ticket info here: https://proudcamden.viewtickets.co.uk/payment/order?id=37061
"Know No Other" will be released via Necessary Records on August 26th: http://www.dirtygoodsofficial.com/