Subsource – Generation Doom
aaamusic | On 07, Aug 2012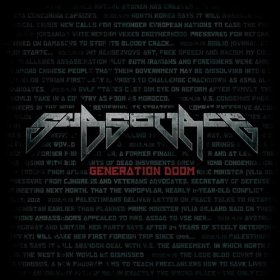 Subsource are a British four-piece that fuse metal and dubstep. I know, I know – you're thinking 'REALLY! ANOTHER ONE?' When I first stumbled across dubstep many moons ago (Benga, Mala, Loefah, Skream, etc) it was immediately apparent that this was a subgenre of dance music that would not only appeal to rockers and metal heads, but was ripe for crossover experimentations. Those wobbly, bass-heavy breakdowns of the more aggressive dubstep productions had a very similar impact to the chug-a-chug riff breakdowns of metal and hardcore (and metalcore) bands. But no one could've ever expected a little, American screamo singer to be the guy to straddle the two genres most successfully, let alone become an international megastar, personally responsible for making dubstep a truly mainstream phenomena. So, just like every producer has now seemingly started leaning towards the profitable dubstep spectrum, the crossover bands from the rock and metal communities are coming thick and fast. And it's all quickly become an oversaturated mess. Even Muse have created a dubstep track for their new album (admitting they took inspiration from a Skrillex gig)!
So, where do Subsource stand? Their new EP 'Generation Doom' – which follows 2010's 'Tales From The Doombox' LP – contains that industrial edge that rave-rock act Pendulum popularized; an edge Linkin Park recently faltered in their attempting to recreate on (some of) their latest album. The vocals are airy but snarling – like a mixture of Pendulum's Rob Swire and The Prodigy's Keith Flint (as on over-produced 'Invaders Must Die'). The guitars are much heavier than most dubstep-rock crossovers – and it is these heavy metal guitar riffs that add the necessary power to the breakdowns. And man are there breakdowns! Heavy, heavy, heavy! Imagine Skrillex mixed with a mainstream metal band. Oh no, wait, that already happened. The music of 'Generation Doom' is essentially the same as Korn's dubstep-metal album 'The Path Of Totality', which Skrillex had a heavy (!) hand in creating.
But enough bitchin' and moaning (for now). As far as dubstep-metal mashups go, you could do much, much worse than Subsource's 'Generation Doom'. Opener (and single) 'Molotov' is pretty massive – pummeling drums, futuristic synths and industrial noises, melodic punk vocals, and stooooopid amounts of aggy bass. It's all pretty much the same from here; the closing, mainly instrumental 'Kill The Thief' ineffectively substitutes vocals for bass (there is such a thing as too much bass), 'The Feeding' contains an electro-metalcore vibe very similar to Enter Shikari, and 'It's A Lie' boasts the EP's most memorable melodies. 'Generation Doom' is, in all honesty, solid stuff.
If Subsource had released this EP five years ago (they formed in 2008, I think) they would probably have been considered innovators. Releasing it in 2012 means that though they will probably be a hit (both in the charts and on the live circuit – dubstep is pretty popular, if haven't noticed), they sound like bandwagon-hopping-copycats (even taking into account their 2010 album). The Prodigy, Pendulum, Chase & Status, and Modestep have got the ravers; Korn, Skindred, Enter Shikari, and Linkin Park (kinda) have got the metalheads; and Skrillex has got the world (and Ellie Goulding). Is there room for Subsource? Not really. Does that matter? Sadly not. This dubstep-metal boom is only just getting going. I mean for God's sake, Skrillex hasn't even released his debut album yet, and he's already one of the richest DJs in the world. Get used to it. Go big or go home.
Clive Rozario