A CHAT WITH: STRANGERS
aaamusic | On 09, Aug 2012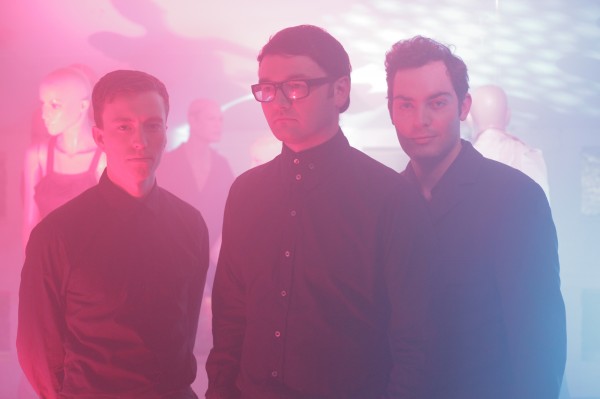 Orna Lyons chats to Strangers about their plans for the future!
AAAmusic: Can you tell us the meaning behind your new single "Safe/Pain"?
Safe/Pain is about becoming numb towards emotion as you go through life. It's about wanting to feel the pain of when you first got your heart-broken just to feel something. It's a very personal song actually. Although on the surface it seems quite a dark song, people always say to us that it's really uplifting, which is why we make music, to uplift people.
AAAmusic: What kind of music inspires you as a band?
We love epic pop music with dark undertones. Stuff like Depeche Mode, Velvet Underground, Nine Inch Nails, David Bowie… But we also listen to a lot of new stuff like Purity Ring, Paper Crows, Jessie Ware.
AAAmusic: The video for this single is really cool and different, how did you come up with the concept for the video?
Well, it kind of came together on the day really. We arrived at the location and the set designer had set up one corner of the room with a load of old mannequins. We thought they looked really great and so we built the whole video around it. It was a collaboration between us and the Zenessex design team who are a great duo we have recently met and are excited to be working with.
AAAmusic: Can you tell us a little bit about your writing process, and what inspires the band?
I usually start the song off on garage band with a beat, chord sequence and melody and then send it to the guys. We will then demo it and get the stems to our producer Glen who makes it sound like a record ha. We are inspired by everything; life, tunes, people, anything that sparks something in us. There's inspiration everywhere.
AAAmusic: You released 3 EP's in 2011- in this digital age do you think that that is the way to go- by constantly supplying your fans with new content?
Yeah I think so. We want to show that we aren't a one trick pony and that as a band we have a lot of depth in our material. We like to keep things fresh and get things out there when they are exciting us.
AAAmusic: Do you think your sound has progressed at all or do you have a more consistent sound?
Our sound has developed as we've gone on. We have always had a very strong idea of what we want to sound like though, and this will always be present in our music. We don't close the door to any new inspiration or sounds that come our way and so everything we do is a progression.
AAAmusic:  Are there any artists or other bands that you would be interested in collaborating with? 
Yes, would love to do a track with an amazing female vocalist. Someone like Kyla La Grange, or if we're talking dream collaborations it would have to be someone like Nine Inch Nails or Depeche Mode; Adele would be another one we wouldn't turn down of course. There are lots of amazing new artists around like Curxes, Alice Jemima and I think collaborating gives you a fresh prospective creatively.
AAAmusic: You have quite a few gigs coming up, including one in Berlin- do you have a favourite place to play and why?
We just arrived back from Berlin actually and it was amazing, so that's definitely a favourite of ours now. Favourite venue we've played so far is probably O2 Islington Academy; the sound was amazing. If you're asking where we'd like to play…headlining Glastonbury of course, or ROCK AM Ring in Germany…
AAAmusic: What else will Strangers be up to in 2012?
We will be touring and releasing more stuff.
Orna Lyons