WE ARE AUGUSTINES TO RELEASE BOOK OF JAMES/PHILADELPHIA DOUBLE A-SIDE SINGLE ON SEPTEMBER 3RD ON OXCART RECORDS
aaamusic | On 10, Aug 2012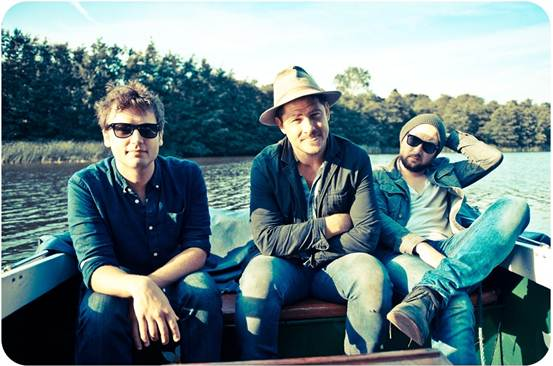 Brooklyn's We Are Augustines are set to release a double A-Side single featuring 'Book of James' and 'Philadelphia' (The City of Brotherly Love) on September 3rd ahead of their Autumn UK tour following performances at Reading and Leeds Festivals.
The trio have not stopped traveling this year. Following a fully sold out UK tour in May, they flew back home for appearances on David Letterman, Jay Leno and Carson Daly shows, they played a US tour with Band of Skulls in between European and American festival slots, and a US tour with the Counting Crows playing to over 10,000 people a night.
This new release leads with the band's flagship tune "Book of James", a song that needs no introduction. Lauded as one of the singles of the year, the track described as "heart-breaking in its openness" by 6 Music DJ Steve Lamacq, delves into the heart of the subject matter from debut album 'Rise Ye Sunken Ships' and is one of the most moving pieces of work the band have released to date.
This epic track is a moving eulogy, an attempt to humanize the homeless and mentally ill from first hand experiences and a song that has connected with many.
This double A-Side single is charmed with the presence of live favourite "Philadelphia (The City of Brotherly Love)" which snapshots a city landscape. Not a world-class cosmopolitan playground, but a real place with real people living real lives. A subject matter that is close to all three members of We Are Augustines, particularly singer Billy McCarthy:
"I'm not sure what my fascination with not becoming a casualty of your surroundings is about but it's, again, a character pleading with great urgency that they can't succumb to shutting down and accepting this as a life. There is indeed a world out there, and that once you truly realize it, the window of time is very short to get out."
This double A-Side release will be available digitally on iTunes and other digital stores here: http://t.co/wlEcM5SD
See We Are Augustines at their forthcoming UK shows.
AUGUST
FRI 24th– READING FESTIVAL (Festival Republic Stage)
SAT 25th – LEEDS FESTIVAL (Festival Republic Stage)
SEPTEMBER
SUN 30th – BRISTOL THEKLA 0845 413 4444
OCTOBER
MON 01st – LONDON O2 SHEPHERDS BUSH EMPIRE 0844 871 8803
WED 03rd – MANCHESTER HMV RITZ 0845 413 4444
THU 04th – LEEDS COCKPIT 0113 245 5570
FRI 05th – NEWCASTLE O2 ACADEMY2 0845 413 4444
SUN 07th – GLASGOW ARCHES 0844 847 2487
MON 08th – NOTTINGHAM RESCUE ROOMS 0845 413 4444
TUE 09th – BIRMINGHAM BALLROOM 0844 873 7359
Tickets are available now from www.weareaugustines.com
Follow We Are Augustines online at www.weareaugustines.com , on Facebook at www.facebook.com/weareaugustines and on Twitter at www.twitter.com/WeAreAugustines