Lace & Whiskey – Running Out of Time
aaamusic | On 12, Aug 2012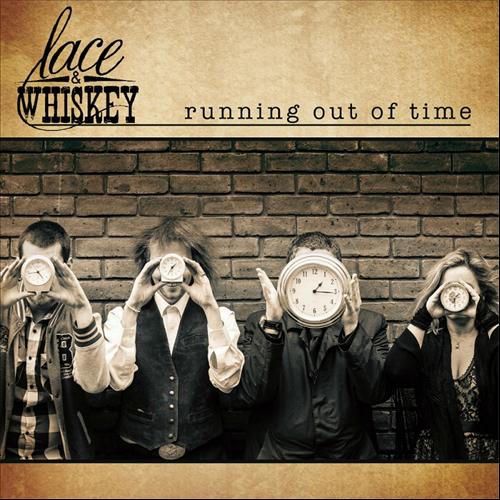 Lace & Whiskey are an East London rock four-piece (and not the 1977 album of the same name by Alice Cooper, something that silly Google and Facebook seem to get confused with). 'Running Out Of Time' is their eclectic debut album, originally released earlier in June (according to their website), yet it seems it's getting a rerelease on August 14th – hence why I'm reviewing it now.
'Running Out Of Time' is an interesting mixture of oldschool rock influences, and upon the first listen I couldn't help but think of such clichéd and unfair terms as: nostalgia act, hotel entertainment, pub band. This might, in part, have something to do with the rough and slightly inconsistent production; whereas the production of the guitars is faultless, the vocal mixes of the male-female harmonies aren't always pitch perfect, and the drum production is a little flat. That being said, after a couple spins, Lace & Whiskey's record began to come together and take shape.
It took a while to make sense, musically, in my mind because there is just so much to consume, genre-wise. Opener 'But Do You Love Me?' features acoustic, soft rock guitars and snarling vocals, with snippets of psychedelic indie rock – think The Stone Roses doing folk rock. Despite a relatively weak vocal melody, 'The Nightmare's Back' is an angsty, galloping tune with impressive hard rock, duel guitar soloing. When Lace & Whiskey bring the heavy – such as on the wicked, 70s hard blues rock of 'Confuse The Mind' and 'Bad Dream' – they do so with such appealing swagger that you'll wish they had stuck with this genre throughout.
What let's this debut down is the softer rock ballads and mid-tempo numbers. 'I'm Here For You' is, musically speaking, forgettable, which is a shame since it boasts one of the record's strongest vocal harmonies, and 'Don't Ask Questions Of Your Love' is cheap pop folk. Some tracks, like 'Isolation', inject some unnecessary Americana into proceedings, and although they do a fine job with the rootsy genre, a smarter move would have been to leave the Southern and (slightly) Country vibes alone, firing up those hard rocking blues guitars instead.
Frontman Andy Hodgson's vocals are solid – sounding like a gruffer Billy Corgan, he adapts to heavy 70s rock or folk-tinged ballads seamlessly. But this is lead guitarist's Melissa Collett's show; her unexpected solos often add the necessary excitement that perhaps the initial songwriting format was lacking. The moody instrumental 'Night Of The Armada', for example, is exhilarating – containing slow, unflashy, prog-rock guitar noodlings that really showcase Collett's impeccable talents.
If Lace & Whiskey trim down on the excesses of their musical influences and styles, there is no doubt that they could become a formidable force for the UK alternative scene – especially given the live potential of their blazing blues-rock numbers. Well worth checking out if you're looking for some new-but-oldschool rock'n'roll.
Clive Rozario