Zeni Danussi – Powerbolt
aaamusic | On 12, Aug 2012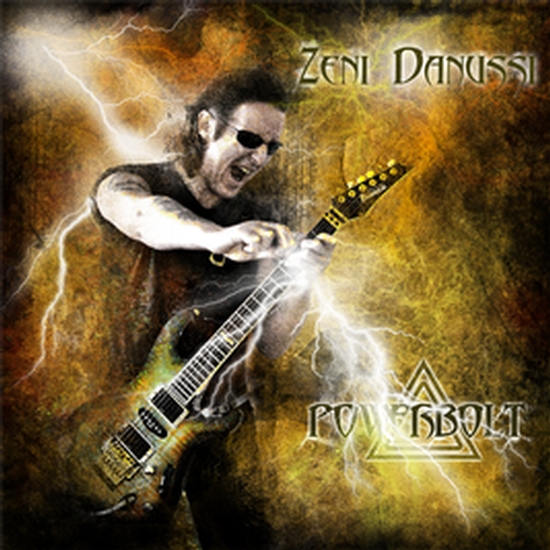 Yet another instalment of guitar wizardry from Zeni Danussi, 'Powerbolt' is a full-lemgth release, and one that despite showing every bit as much adrenaline and technical mastery as his previous EPs, shows little boundary-pushing, settling for much the same sound and approach. And as much as I'm an advocate of doing what you love, I find it hard to differentiate between tracks, and wonder if Danussi may need to consider diversifying his approach to sustain a truly memorable album.
That isn't to say there aren't moments where this is achieved. The transition from the manic overdriven shredding of title track 'Powerbolt' into the moody, almost melancholy metal of ' Love Dealer', as sheer force gives way to melodies and harmonies and a degree of consideration to the drums and synths beneath the fret-bothering. 'Rock Angel' starts out with a degree of pacing as it starts with a moment of brooding synthy bass throbs and tightly-coiled, sparse riffing, but this eventually gives way to a long, occasionally directionless guitar monologue that doesn't quite live up to the promise of the opening.
'Wild Train' is a better track in respects to holding up an atmosphere, opening with a jittering synth and a brief melodic refrain, followed by a powerful stomping rhythm, both of which recur throughout the track, grounding it and adding expression and dynamics between the avalanche of notes. However, this is somewhat undermined by having the subsequent 'Lost Souls' take a similar direction.
'Groovin' The Devil' is possibly the most catchy track, which as the last track on there is a mixed blessing: on the one hand, it means that it gives something memorable to those who listen to 'Powerbolt' all the way through, with what are easily some of the best hooks on the album, and its six-minute runtime means that there is space for the music to develop and feel like it has been thought out and put together rather than just played for the sake of it.
In several respects, Zeni Danussi can still do some very exciting, solid heavy metal guitar instrumentals. It just so happens that what makes for a thrilling EP begins to wear after half an hour, and it is beginning to raise questions in my mind that 'Powerbolt' sounds almost exactly the same as Zeni Danussi's previous releases, in content and style. The technicality is there, but the songwriting needed to sustain more than four or five tracks is notably weaker.
Katie H-Halinski