Deadly Circus Fire – The King and The Bishop
aaamusic | On 05, Sep 2012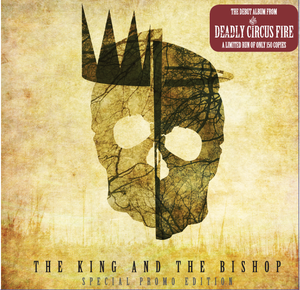 I met Save Addario around Denmark Street, near the small basement studio where his band Deadly Circus Fire create and practice music. They are a London based progressive metal four-pieces group. Addario is Italian and the guitarist of the band.
After a self-titled EP, several live shows and an impressive amount of followers, their debut full length album is ready to be soon officially released.
On stage, in the best Kiss fashion, they wear black and white makeup. Addario believes a show is not only music and looking like scary clowns can pull some extra attention. He also believes you can produce high quality and alternative stuff and still be easily accessible to a wide public. While I need to go see them live to comment on the first proposition, I am happy to have their promo CD here and talk about it.
The influences from Deftones, Tools, Mastodon don't change the truth of this record. It is original, diverse, very enjoyable.
The first three act piece 'Through the Soil' is a rough and aggressive welcome with melodic intervals and long instrumental parts, eight minutes for showing us their music writing and technical skills. They succeeded. The first track of a conceptual album like The King and The Bishop is the key for the rest of the work and it is indeed a grand surprise.
The following Her Epitaph is the 4th act of the sequence track1-track2 when the third song 'Nothing' is probably the one that will sell the best. Violent, dark, highly dynamic with a long intro that leads to a repeated chorus, the one that get stuck in your head, perfect for a film or a videogame. The achievement of being different, accessible and memorable at the same time.
'In The Kingdom of Flies' is a short horror-movie melodic instrumental gem opening to the raging 'The King and The Bishop', the intricate, complex and powerful title track. The second part of the album is definitely my favourite. Beautiful and obscure 'Black Mask' is followed by 'Threnody', probably the quintessence of the band style, and then my favorite 'Leviathan', with outstanding guitar parts and perfectly crafted crescendo and intervals. Another cinematic track that can be easily used along epic film scenes.
This is a very good debut album, not just for this music genre lovers. Can't wait to see the scary clowns on stage.
Pietro Nastasi