White Hills To Appear In The New Jim Jarmusch Film / New Music Video / Full Euro Sept & Oct Tour Dates
aaamusic | On 09, Sep 2012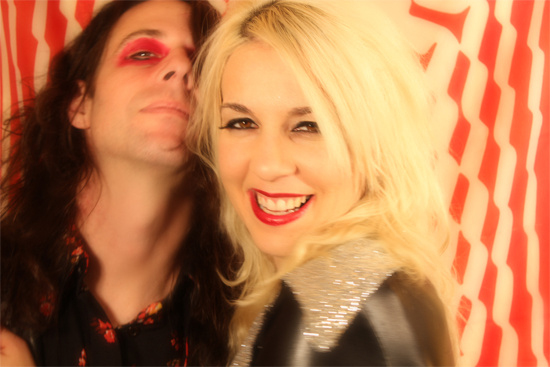 It seems to be quite a busy period for those space rock masters White Hills.
The duo are set to make a cameo appearance in the forthcoming Jim Jarmusch film 'Only Lovers Left Alive' out in 2013. Thrill Jockey recording artists play themselves in a live concert scene set in a Detroit Rock Club. The band spent a week in Hamburg, Germany shooting the scene, which includes Tilda Swinton, Tom Hiddleston, Mia Wasikowska and Anton Yelchin, this past July. The song featured in the film is Under Skin Or By Name from the album Glitter Glamour Atrocity.
White Hills will also embark on a European Tour beginning at the end of September 2012 which will take them to Belgium, The Netherlands, Spain, France, Austria, Switzerland, Italy, Germany, Croatia, Norway, Denmark and Sweden.
Full Dates Below:
Fri Sept. 28th – Antwerp, Belgium – Trix-Bar
Sat Sept. 29th – Groningen, Netherlands – Vera
Sun Sept. 30th – Nijmegen, Netherlands – Doornroosje
Mon Oct. 1st – Amsterdam, Netherlands – Paradiso Upstairs
Wed Oct. 3rd – Hamburg, Germany – Molotow Club
Thurs Oct. 4th – Copenhagen, Denmark – Loppen
Fri Oct. 5th – Malmö, Sweden – Debasser Malmo
Sat. Oct 6th – Stockholm, Sweden – Debaser Slussen
Sun Oct. 7th – Oslo, Norway – Revolver Club
Mon Oct. 8th – Gothenburg, Sweden – Truckstop Alaska
Tues Oct. 9th – Skive, Denmark – KRABBESHOLM HØJSKOLE
Weds Oct. 10th – Berlin, Germany – White Trash Fast Food Club
Thurs Oct. 11th – Usti nad Labem, Czech Republic – Mumie Club
Sat Oct. 13th – Prague, Czech Republic – 007 Club
Sun Oct. 14th – Vienna, Austria – Arena Small Hall
Mon Oct. 15th – Zagreb, Croatia – Tvornica Kulture
Tues Oct. 16th – Brescia Italy – Lio Club
Weds Oct. 17th – Forli, Italy – Sidro Club
Thurs Oct. 18th – Roma, Italy – Inut Club
Fri Oct. 19th – Firenze, Italy – EX Fila
Sat Oct. 20th – Bern, Switzerland – Reitschule Dachstock
Sun Oct. 21st – Lausanne, Switzerland – Le Romandie Rock Club
Mon Oct. 22nd – Lyon, France – Le Sonic
Tues Oct. 23rd – Barcelona, Spain – SideCar
Weds Oct. 24th – Valencia, Spain – LaResidencia
Thurs Oct 25th – Granada, Spain – Planta Baja
Fri Oct. 26th – Madrid, Spain – Nasti Club
Sat Oct. 27th – Porto, Portugal – Ampifest at Hard Club
Sun Oct. 28th – Vitoria, Spain – Ibu Hots
Mon Oct. 29th – Toulouse, France – Le Saint de Seins
Watch their latest video "I Write a Thousand Letters" from Frying On This Rock. The video was shot at The Womb Gallery in Oklahoma City, and was directed by Delo Creative, who is best known for his work with The Flaming Lips.
White Hills – I Write a Thousand Letters from Thrill Jockey Records on Vimeo.
The album 'Frying On This Rock' is out now on Thrill Jockey Records.