Scams – Lifeboats
aaamusic | On 13, Sep 2012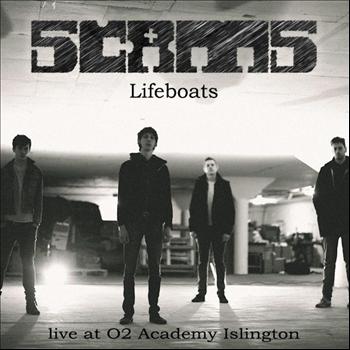 Part of what I love about music is not knowing what to expect when you listen to a new band for the first time and you know nothing about them; their sound, their style, their influences, etc. So you can imagine how happy I was when I put this song on and the first 24 seconds was the word 'oh' being repeated to the music. I love a good 'oh' in a song, I like singing along to them and joining in… I just think 24 seconds of them is a bit much.
The vocals of this song aren't the most impressive I've ever heard but they work for the sound that Scams seem to have going on – a kind of laid-back, relaxed, yet happy sound. They also have an indie vibe about them which is great because everybody (sort of) loves to listen to a great indie track once in a while.
One thing I really didn't like about this track was the harmony elements to it. There wasn't much of it but it just didn't sound right to me; especially when the lead singer started singing over them. Maybe it's just me but that didn't sit right with me, it sounded wrong.
I know so far this review might have made the song sound really bad – it's actually not. It's not the best thing you're ever going to hear but it's 2 minutes and 52 seconds of an overall decent song. It sounds happy and uplifting, which is what you need from a song when you're coming into autumn. Not to mention the fact that the lyrics are pretty decent. In fact, I've picked my favourite line from the track and it's probably going to become one of my favourite quotes for a while; "Out of the lifeboat and into the sea." Another part of what I love about music is that it can be interpreted in different ways and each song will mean something different from one person to the next. For me, this line is all about moving away from your comfort zone and taking a risk on something much greater than you know and understand.
So, whilst there are certain things about this song I don't rate, in general it's not too bad. It's definitely worth a listen anyway.
Melisa Greenfield