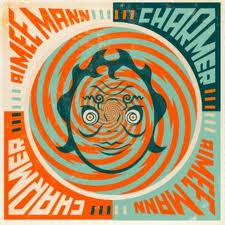 American rock and folk singer-songwriter Aimee Mann, also guitarist and bassist, started in the 1980s by fronting 'Til Tuesday. She continued with a solo career that took off with 1993's Whatever and she recently performed for the President Obama and the First Lady at the White House.
Charmer, her 8th solo album, is released in the UK on September 18th, 2012 on Superego Records and reveals her fascination for charm and the sinister, manipulative motives that might lie beneath its surface. It's produced by Aimee's long-time friend and band member Paul Bryan.
In opening track Charmer Aimee observes: "When you're a charmer, the world applauds/They don't know that secretly charmers feel like they're frauds." Crazytown uses a catchy tune and dark lyrics to tell about things that happen in a small town whilst Disappeared is a personal story about rejection. Vibrant Gamma Ray is a song about defeat and resignation: "One thing leads to another, and none of its good." The album also includes an earthy duet with James Mercer of The Shins on Living a Lie.
Aimee Mann is influenced by great colourful melodies of the 70s and 80s. Quick witted, she's a close observer of people and her smart, prickly lyrics are bittersweet. The relaxed, casual, and understated feel of her music leaves you genuinely moved and comforted. But there's a sharp, polished and glossy production behind the breeziness. This is a fine album that quickly grows on you to become timeless and memorable.
Track list:1. Charmer 2. Disappeared 3. Labrador 4. Crazytown 5. Soon Enough 6. Living A Lie 7. Slip and Roll 8. Gumby 9. Gamma Ray 10. Barfly 11. Red Flag Diver.
Anthony Weightman