The State Broadcasters – Ghosts We Must Carry
aaamusic | On 19, Sep 2012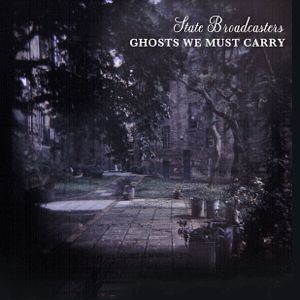 There are some bands that manage to pull off ethereal nostalgia with grace and charm, and other bands that almost manage this, but instead fall short at sounding lacklustre and tired. Unfortunately, I am left feeling that The State Broadcasters have joined the latter camp with their second album 'Ghosts We Must Carry'.
The album starts of promisingly enough, with opening track 'The Only Way Home' merging a mournful acoustic guitar ballad with echoes of post-rock style attention to detail in the way the harmonised vocals sound distant, like a ghostly radio transmission from yesteryear, unfolding into funeral pop reminiscent of The Beatles at their most introspective, albeit with a far more understated yet orchestral approach, as the instrumentation expands with time to include electric guitars, trumpets, and strings.
But what drags The State Broadcasters down the most is that their sound lacks a certain vitality. It is evident from the outset that the mood will rarely if ever rise beyond bittersweet, but what they have is a sound that doesn't convey a mood so much as one that gets overwhelmed by it, and the melancholy is so strong that it means the music has to take a backseat. On the one hand, the band have a distinct, nuanced sound, but unfortunately in many cases the sound doesn't vary enough between songs to fully sustain attention, or when it does, distinctions are stunted to fit the big picture. 'Trespassers' attempts a more upbeat sound, but the sunny vocal lines and tinkling piano clash against the somewhat flat mix and monotonous percussion, coming across as inappropriate more than anything else. But then again, 'Outside The Bakery' with its tender acoustic guitar and the overall musical feel of a music box with the tinkling instrumental tones and simple repetitive melodies feel aimless but blend into the folky tones of 'Where I Belong' which in turn melds into the old-fashioned pop of 'The Writing's On The Wall'.
It's a curse, where the pressure is on a band to create an album that feels like a cohesive whole, but The State Broadcasters just sound like background noise. The melodies and tempos are too similar between songs to fully differentiate, and the downbeat mood that pervades the album means that even emotional differences are lost to the overall mood. And perhaps most importantly, there's something about this effect that saps the energy from the album, leaving what could be a quietly compelling album with a great mix of artistic and expressive vision and musical composition feeling underwhelming and relegated to background music.
Katie H-Halinski