MEDIAEVAL BAEBES – The Huntress
aaamusic | On 02, Nov 2012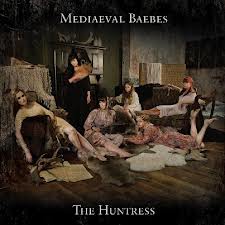 Founded by Katherine Blake, The Mediaeval Baebes are a classical and traditional choral ensemble of female musicians. They include some of the band Miranda Sex Garden and others who share a love of mediaeval music. Between six and 12 members contribute, depending on the album.
The present members include Emily Ovenden, Sarah Kayte Foster, Esther Dee, Bev Lee Harling, Katherine Blake, Tanya Jackson and Jo Burke.
On 5 November, 2012 they release their seventh studio album, The Huntress , on the Queen Of Sheba label. The 2CD set is supported by UK live dates in churches and cathedrals.
The familiar Cruel Sister, an intriguing murder ballad, was once the title track of Pentangle's seventies album and Jennet's Song has an alarming transcript of the tragic Pendle witch trial . Clasp Of A Lion, with its Arabic poetry, has a mysterious eastern feel and the creepy Phantom is beautiful and enticing but a bit unsettling.
In The Huntress you feel like a traveller across a mystical landscape in ancient times where entrancing stories are sung alongside intriguing instruments. However, this is also accessible folk music despite the complex and imaginative harmonies. The Mediaeval Babes remain glamorous, talented and energetic artists. Their voices are stunning.
Anthony Weightman