SAM LEE – The Ballad of George Collins
aaamusic | On 02, Nov 2012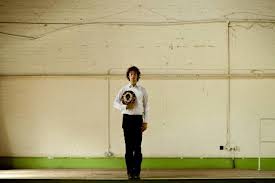 Sam Lee is an inventive and influential folk musician who's inspired by travellers and gypsy communities. He sings and plays jews harp together with the shruti box, an instrument which gives a rich drone. He's the first folk singer to teach at the Royal College of Music.
Sam's band comprises Francesca Ter-Berg cello), Jonah Brody (percussion, ukulele, koto), Camilo Tirado (percussion, tabla), Steve Chadwick (trumpet) and Flora Curzon (fiddle).
The Ballad of George Collins is taken from his debut Mercury Nominated Album Ground of Its Own which is produced by Gerry Diver. It was originally collected by Bob Copper from a Sussex shepherd called Enos White and is a pagan tale of visions and faerie folk.
Sam's songs are simple and moving. He researches the long forgotten songs of traditional music and celebrates the English folk song in a fresh and creative way. With his gentle, natural style he creates a rich musical tapestry, both imaginative and mysterious.
Anthony Weightman