Té – Therefore, the illusion of density breach, the tottering world "forget" tomorrow
aaamusic | On 19, Nov 2012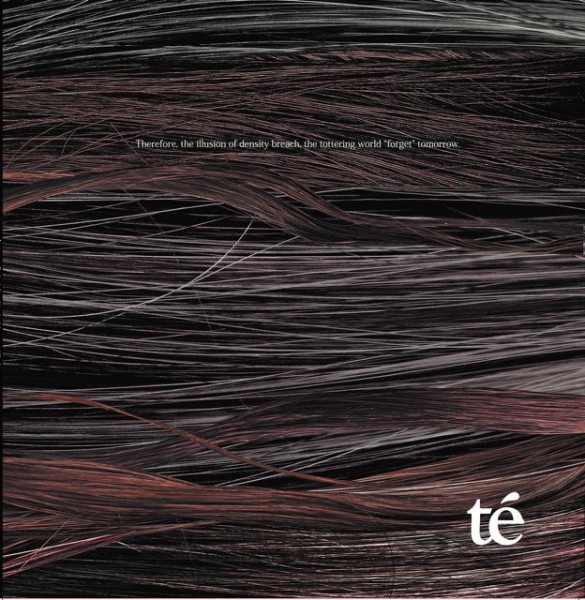 I had real trouble researching and writing this review. The album arrived in the post, with no press release. The band, from Japan, are called té, which the band and fans spell as te' – neither or which are very search engine-friendly. The album is called 'Therefore, the illusion of density breach, the tottering world "forget" tomorrow', which I am not going to type out again. Each of the eleven songs on the album have titles just as eloquent and long (and I will not be typing them out at all…). Lastly, most of the press about te' has been in Japanese, as is each of the song titles that came up in iTunes. I cannot read Japanese. As an example, this is what track one looks like: "道徳とは権力の装置であり民衆の自由の最大の『枷』と自覚せよ。"
Anyway, te' are an instrumental post-rock four-piece from Toyko, and this album (which I will refer to as '5th Album' – after the only bit of information offered on the promo. I'm guessing it's because it's their fifth album…) is absolutely and undeniably incredible.
Each track on this record contains brilliant moments of hectic and progressive math rock, as well as moments of intelligent and beautiful melodious peace. The drummer is out of this world, in the same way the drummers of Dillinger Escape Plan or freewheeling jazz are – snares and symbols everywhere! The guitars are not in-your-face heavy, and are accessible in their distortion and time signatures. Te' are more of an post-indie prog-rock band, as opposed to, say, a prog-metal band or 70s prog-rock band – think post-rock bands like 65daysofstatic, Explosions in the Sky and Mogwai, with some added prog-rock flare.
Massive in Japan, the UK are only just getting exposure to te', and as huge fans of post-rock, the UK is the perfect place for this Japanese band to launch their international stardom. '5th Album' is a consistently exciting and enjoyable record, and my record of the month.
Clive Rozario