The Procession – Cease & Desist
aaamusic | On 19, Nov 2012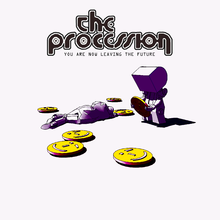 The Processions new single sits very neatly within the rock genre.
The lead singer has a very charming voice, which he uses to very nice effect against the simple instrumentals. Though not consisting of a very complex harmony, there are some interesting melodies which do combine to create an interesting harmony that makes this single very appealing. The use of varying instruments between the tracks provides the overall single with a nice sound without getting stale. When percussion is use, it is simple used and effectively keeps the beat without being too loud or too quiet, a solid backbone to the track. Each of the three tracks has its own idea and appeal, but links in some musical way, which creates continuity, but at the same time, ingenuity.
Overall, though not complex or overly diverse, this single is very pleasing to listen to and has many musical motifs that are interesting and create a good overall feel; a good listen for most situations.
Rhys Maroney