YOUR MOVE, RAINCLOUD – This is what's left over from nothing that's happened
aaamusic | On 28, Jan 2013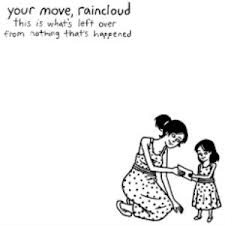 Samuel Francis Cain, a young singer songwriter, is largely the creator of the project Your Move, Raincloud. It's been many years coming but probably still has a long way to go.
Samuel is helped by Matiss Dale (drums), Angharad Cooper (violin) and Alison Mure (vocals). They use banjo, piano, bass guitar, glockenspiel, reed organ and accordion alongside field recordings and synthesisers.
Their debut album, released on 28th January, 2013 through Motive Sounds Recordings, was recorded in a barn in rural Lincolnshire. It has bespoke CD packaging which is illustrated by Chicago comic book artist Jeffrey Brown.
Clearly there are critics who find this album forced, overblown and sentimental. Unfortunately the instrumentation and vocals are not enhanced by background noises such as waves, thunder, fireworks or sleigh bells. However, their dreamy songs have a raw, fragile and intimate feel and there are certainly enjoyable moments where their creativity clearly shines through.
Anthony Weightman