PAUL HARDCASTLE – Electrofied 80s Essential
aaamusic | On 04, Feb 2013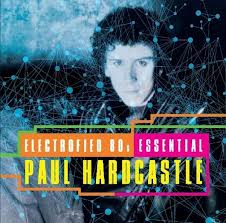 English composer and musician Paul Hardcastle is well known for  house, freestyle, boogie, synthpop and electronica.  He was a 1980s pioneer before  becoming recognised for smooth jazz and soulful chill-out grooves. The synthesizer is his specialisation.
His retrospective 2CD compilation Electrofied 80s Essential will be released on 4th February, 2013 on the Music Club Deluxe label. Here there are many of his well known tracks together with some rare mixes.
Paul's  iconic and influential anthem 19 takes words from a USA documentary about the Vietnam War and adds compelling dance beats. It's a hesitant and repetitive hook which horrifically reminds the listener of the average age of American combat troops in the conflict. The song rose to number one in thirteen countries and became a classic.  Just For Money has spoken word cameos from legendary British actors Sir Laurence Olivier and Bob Hoskins who talk about human greed over a funky beat. The sun filled and upbeat theme tune The Voyager was soundtrack to the BBC travel programme Holiday.

Paul has taken his finest definitive moments from his back catalogue. He's a quirky, innovative and individual artist with strong crossover abilities. For fans of contemporary instrumental music this will be an essential and important part of their collection.
Disc 1: 1. 19 2. Rain Forest 3. The Wizard (theme from top of the pops) 4. Guilty 5. Foolin Yourself 6. Don t Waste My Time 7. Forest Fire 8. You re The One For Me/Daybreak/A.M. 9. Moonhopper 10. Just Passin Thru 11. Loitering With Intent 12. Fly By Night 13. Back In Time 14. Papa s Got A Brand New Pigbag (1985 electro funk mix) 15. Just For Money.
Disc 2: 1. Eat Your Heart Out 2. Are You Ready 3. King Tut (remix) 4. Sound Chaser 5. Swing (the deff boyz) 6. Over And Over 7. Panic 8. Always There 9. Walk In The Night 10. Time Machine 11. Sound Of Summer 12. Moving Sound 13. The Voyager (theme from holiday) 14. The Wizard (2012 version) 15. 19 (2011 version).
Anthony Weightman