Henley Festival Unveils Lineup
aaamusic | On 21, Feb 2013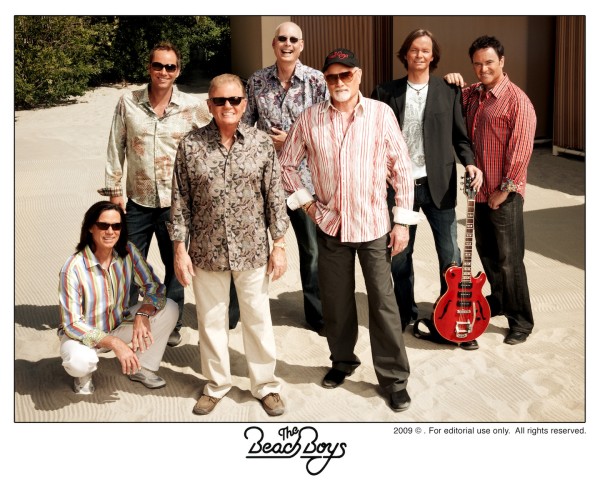 HENLEY FESTIVAL
5 NIGHTS OF EXCEPTIONAL ENTERTAINMENT…
FEATURING 
10th July – THE BEACH BOYS
11th July – SPECIAL GUEST TO BE ANNOUNCED
12th July – MADNESS
13th July – SHAKEN & STIRRED.  THE MUSIC OF JAMES BOND
14th July – PALOMA FAITH
Wednesday 10th – Sunday 14th July
The glamorous Henley Festival, in partnership with BMW, is proud to announce a series of extraordinary evenings featuring exciting headline performances from an array of world class acts. The eclectic line up sees appearances from legendary band The Beach Boys who begin the festivities on Wednesday 10th July, British icons Madness on Friday 12th July and a very special James Bond Themed Gala Evening on Saturday 13th July: Shaken & Stirred.  The Music of James Bond. Carrying on the compelling entertainment, the captivating chanteuse, Paloma Faith will close the show on Sunday 14th July. Tickets go on sale to Friends of the festival* from www.henley-festival.co.uk at 10am on Monday 25th February and on general sale soon.
With just 5,000 tickets available each night, this chic black tie only event is an intimate and magical experience, set on the serene banks of the River Thames. With appearances from some of the biggest names in music, food, street theatre, dance, art, culture and comedy, this quintessentially British festival has a rich 31-year legacy for you to be a part of. Taking place over five spectacular nights, the Henley Festival is THE only event to see and be seen at this summer. More will be revealed in the coming weeks…
Recognised nationally and internationally as one of the summer's great British events, all net profits go to the Henley Festival's charitable projects.
Gill Mitchell, CEO of The Henley Festival said: "Many people do not realise that we are a charity and always have been. Over the last 30 years, the Henley Festival has donated more than £2m to music and art projects in the Thames Valley. With this in mind, it gives us great pleasure, to announce such an exciting and diverse musical line up for this year's Henley Festival.  We are extremely proud to be playing host to some of the most globally recognised artists at our summer party and look forward to seeing you there."
THE BEACH BOYS – WEDNESDAY 10TH JULY
Headlining the opening night of this incredible series of shows on Wednesday 10th July are The Beach Boys.  Having performed more concerts than any major rock band in history, The Beach Boys now bring their one-of-a-kind concert presence, spirit and performance to the Henley Festival this July.
Combining the pure talent of Mike Love, Bruce Johnston, Christian Love, Randell Kirsch, Tim Bonhomme, John Cowsill and Scott Totten, the band's inimitable style continues to inspire the world…be sure not to miss this highly anticipated performance on Wednesday 10th July.
Tickets start from £80 and are available from www.henley-festival.co.uk
Mike Love said: "We are very excited about performing at this year's Henley Festival and playing literally on the River Thames.  It is always a special gift to get the opportunity to play for our English fans."  
THURSDAY 11TH JULY
Details will be announced shortly.
MADNESS – FRIDAY 12TH JULY
Madness have endeared the nation for decades and are currently promoting their 10th studio album Oui Oui, Si Si, Ja Ja, Da Da.  As icons of the music industry, whose songs have left a firm mark on British pop culture, the band now bring their live show to the banks of the River Thames on Friday 12th July.
With a legacy that has been celebrated by the country, Madness will showcase their distinctive sound at the vibrant Henley Festival this summer.  Join Madness on Friday evening for a show that sparkles with the spirit of British life.
Tickets start from £90 and are available from www.henley-festival.co.uk
Madness said: "Our singer Suggs got the wrong date and turned up on stage a year early, luckily Sting didn't mind too much, we'll all be there this year, we'll be expecting you." 
SHAKEN & STIRRED. THE MUSIC OF JAMES BOND – SATURDAY 13TH JULY 
What better way to celebrate the historic 50-year milestone of 007 than at a very special James Bond Themed Gala Evening. Now a British institution, Ian Fleming's suave spy first appeared in Casino Royale and most recently in the award winning Skyfall. Now in homage to the great man, the Henley Festival will celebrate with a bold, blockbuster variety show featuring West End singers, James Bond style stunts, a guest star presenter, professional dancers from BBC's Strictly Come Dancing, plus surprise guests, to be announced in the coming weeks.
Bond films have consistently delivered memorable and award winning sound tracks and these stirring melodies will be at the heart of the grand Shaken & Stirred.  The Music of James Bond evening, with the Royal Philharmonic Orchestra at the heart of proceedings performing classic tracks from an array of Bond films; such as Diamonds Are Forever, Goldfinger, Live and Let Die, Skyfall, and many more.
Spanning 50 years, the Bond films and their soundtracks go hand in hand, so have your martini shaken, not stirred and expect the unexpected on Saturday 13th July.
Tickets start from £65 and are available from www.henley-festival.co.uk
Sir Roger Moore said: "James Bond has played a major part of my life and I can't imagine a more appropriately British location for a celebration of Ian Fleming's remarkable character. Have a wonderful evening and good luck!"
PALOMA FAITH – SUNDAY 14TH JULY
Closing five original evenings of music and entertainment on Sunday 14th July will be 2013 BRIT Award nominee Paloma Faith, who is set to bring a touch of majestic theatrics to Henley.  So much more than a music festival, the Henley Festival welcomes so much more than a pop artist, whose vocals offer bluesy power and reveal husky emotion. The stage is where she truly comes alive; making Paloma Faith the perfect match for the decadent Henley Festival, so prepare to be dazzled as you relax by the river.
As Paloma serenades spectators, the festival will culminate in a spectacular firework display, lighting up the skies over the Thames.
Tickets start from £55 and are available from www.henley-festival.co.uk
Paloma Faith said: "I'm really happy to be playing at the Henley Festival this year.  Performing live is what I love the most!"
Blending sophistication and glamour, the unique Henley Festival opens its doors to a world of the greatest performances and entertainment. Indulge your senses with the best food and music, accompanied by a selection of witty comedy shows and quirky street theatre, all in one very stylish location. Sample the culinary expertise of the famous Albert & Michel Roux Jr, surrounded by the sharpest and most elegant festivalgoers around.
Visit www.henley-festival.co.uk now for further details
Now in it's 31st year the Henley Festival is one of the UK's most prestigious arts and music events. The award winning team behind the Henley Festival includes Artistic Director Stewart Collins, who in November 2012 was awarded the highly coveted,  'Outstanding Contribution to British Arts Festivals' – BAFA's award.
BMW:
BMW is proud and excited to partner with the Henley Festival for the first time in 2013.  The new three-year partnership, which brings together BMW's passion for and commitment to cultural experiences and the Festival's diverse mix of performance art, will make it one of the most prestigious events of the summer season. For more than 40 years, the BMW Group has initiated and engaged in over 100 cultural co-operations worldwide ranging from modern and contemporary art, to jazz and classical music as well as architecture and design. The BMW Group takes absolute creative freedom in all the cultural activities it is involved in for granted, which is as essential for the creation of ground-breaking artistic work as it is to secure significant innovations within a successful business.  2013 will see BMW working with the high profile Festival in the run up to the event, as well as having a diverse presence on site.
*Friends of the festival:
Priority booking for Friends of the Festival begins on Monday 25th February. For membership details or to become a Friend of the Festival and help support the important work of the Trust, please email: boxoffice@henley-festival.co.uk
The Henley Festival Charitable projects:
•                      The Henley Festival Orchestra, which gives 100 children subsidised lessons and instruments
•                      The Wall is the latest in a line of imaginative art projects devised by Henley Festival the aim being to bringing together top flight professional artists and groups of young people to create one-off and inspirational pieces of large scale art. Under the slogan of 'Arts Inspiring Lives' and working with groups of teenagers from Henley, Reading and Aylesbury 'The Wall' is a live art project, which will also see the establishment of a brand new relationship between the Henley Festival and Stoke Mandeville Hospital. This will see the creation of art that will be presented both at the 2013 Henley Festival and at a special performance event at Stoke Mandeville