DESOLATION YES! – Out Of Orbit
aaamusic | On 25, Feb 2013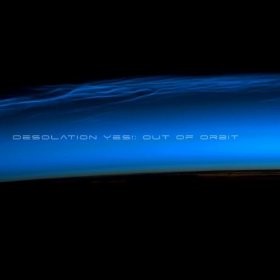 Well… Huh. Believe it or not, I actually don't like criticising albums simply because I don't like them.
Taste is something that is so malleable, so intangible that I need reasons that I see as concrete for
why I don't like them. God knows I've come across bands and albums in my time that I've trashed
and then a couple of weeks later come to realize that I actually love them. So why can't I get behind
this new album from Glasgow based "experimental" group Desolation Yes!? From the start I can
tell you that it's not because it's too far out for me, not because of my non-existent capacity for the
most out-there experimental sounds you can find, but because Desolation Yes! just sound a bit like
a less inspired Enter Shikari, or like Placebo to someone who's never heard Placebo before. Rather
than make music that genuinely only a few people have ever heard before – like the aforementioned
Shikari, or Crystal Castles, or I.R.O.K – they've just taken the existing tropes of metal and electronic
music and shoved them together. Needless to say, it doesn't really work.
Not through lack of trying however. Fundamentally, this isn't a very good album, but it comes out on
the side of interestingly not very good at least. There are enough good ideas to justify its existence
and make me understand why people would like it, but I'll be fucked if I do. Musically there isn't
much to argue with, Ross McNicol keeps the album interesting with some great guitar work and
Paul Elliott's vocals give the album a sense of identity where pretty much nothing else does.
Tellingly, when one half of their signature combination drops out and leave the four piece to fend
for themselves as a standard Rock band or an electronic group, as on the closing minutes of closing
track America, things do get rather interesting but it's too little, much too late. The vast majority of
the album is a dull exercise in papering up holes in dull songs with overblown heavy metal guitar riffs
or overly obvious techno tropes. Opening track and lead single Shivers does not help this, sounding
as it does like the soundtrack to a Cyberdog rave you might see in Eastenders.
But that said, there is nothing to make this an outright bad album, as I said. Someone might listen to
this and think it's the most far-out, forward thinking stuff they've ever come across and I wouldn't
be able to argue with that. However, in my opinion this just doesn't work. Too basic to be considered
experimental and too hare brained to be traditional, I can't in all good conscience recommend this
even though more than a few people out there are probably going to love it. Dammit.
Will Howard