Megan Henwood & Pete Thomas – Live @ The Fat Fox, South Oxfordshire
aaamusic | On 10, Mar 2013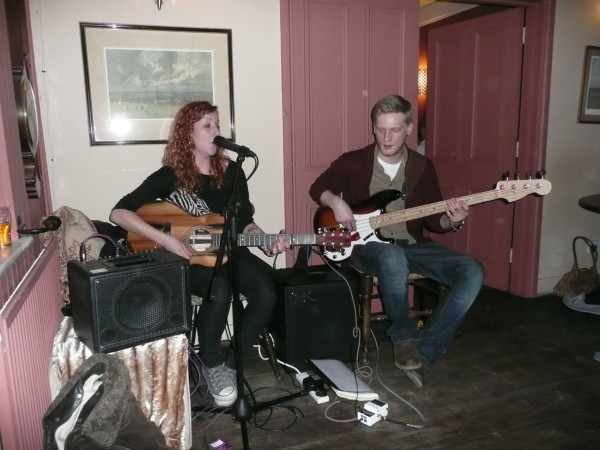 At eighteen British folk singer songwriter Megan Henwood played and sung to crowds in Venice, Thailand, India and Malaysia. Her love of the people of Nepal led her to return twice to Kathmandu to record with well known Nepalese musicians Nirmal Kulu, Binod Katal and Shyram Saram Nepali.
In 2009 she was winner of the BBC Radio 2 Young Folk Award with her brother Joe and I witnessed her outstanding performance at the Cropredy Music Festival that summer.
As a musician she's also supported Ray Davies, Cara Dillon, Julie Fowlis, Eilen Jewell and Eric Bibb and last year was nominated for the Horizon Award  at the BBC Folk Awards.
Her debut album Making Waves, in 2011, was bright and refreshing. With great eloquence she tackled very difficult political and personal subjects and her  moving stories told about love, struggle, despair and optimism. The album featured musicians Peter Knight (fiddle), Andy Crowdy (double bass), Joe Brown (ukulele), Sam Brown (backing vocals), Mollie Marriott (backing vocals), Barriemore Barlow (drums) and Nick Fyffe (bass).
At the Fat Fox Megan's strong, confident voice and fine acoustic guitar was supported by the talented Pete Thomas on bass. She's a keen observer of human nature and here songs from Making Waves were combined with some of her original new numbers:  Betty's Town,  Can't Handle Me,  No Good No Fun and The Puppet & The Songbird. She also played many contemporary classics from the world of blues, soul, jazz, rock, country, Celtic and Latin.
Megan Henwood is bold, earthy, colourful and great fun. Whilst chatting to her about our mutual interest in Peter Green I recalled those Fleetwood Mac lyrics that seemed so apt in describing her ability to still charm and surprise: said you'd give me light, but you never told me about the fire.
Anthony Weightman