Lapalux – Live @ Dance Tunnel
aaamusic | On 22, Mar 2013
London, 21st March
Texture. As Downed In Sound recently pointed out, 'texture' is a word used a lot when referencing Lapalux's music. In fact, it's used an awful lot, dominating most Lapalux reviews, press releases and blurbs. He adds texture; his music creates layers of texture; his face is texturised; etc. Yes, it is undeniable that Lapalux – aka 25-year-old Stuart Howard from Essex – effortlessly works with and within textures, but as a writer of supreme originality, I WILL NOT use this word in reviewing Lapalux's live album launch show.
Donning a carefully textured, buttoned-up shirt, Lapalux is hovering around the decks of Dalston's dingy Dance Tunnel, waiting for Slugabed – aka Ninja Tune's Greg Feldwick – to finish his set. Howard looks eager and excited, and without a single expressive hint of anxiety. That's because he has nothing to fear – this is his sold out, headline show, and, as his appearance on bigger festival stages (e.g. Sonar 2012) and tours (e.g. Flying Lotus), he is always in complete harmony with his laptop and sound systems.
But he mustn't rush to the decks tonight. His debut album – Nostalchic, released through Brainfeeder – has been a long time coming, and this celebration of its emergence should be, and is, a special occasion. Furthermore, Slugabed deserves nothing less than his full allocated hour. His live set tonight is exhilarating, fusing futuristic synth lines and video game bleeps with bouncy, bass-heavy trap – imagine if Lone, Rustie and Lunice morphed into one, unholy producer. At times, and particularly towards the end, the loopy keyboard effects and wood instrument samples (pan pipes?) create a tiring carnival vibe (a carnival soundtracked by a futuristic Mariachi dubstep band – imagine?!), but his musical bridges and deviations are truly inventive, and Slugabed cements his reputation as a master of the club floor.
And now it's time for the man-of-many-textures to unveil what he has been so busy working on in his bedroom, basement, or whatever dark, hidden area that sounds suitably mysterious (his cave? The Lap-Cave!). Once the Dance Tunnel  has filled the small, pitch-black venue with the same amount of dry ice used within all three Pirates of Caribbean films (thanks, I couldn't see anyway!), Lapalux kicks of his hour of blissful, mid-paced IDM. Aside from a rapid-fire track featuring rapid-fire rapping, the majority of the Nostalchic material is slow-burning, bordering on brooding, but extremely atmospheric.
More so than ever before, Howard's passion for contemporary, instrumental RnB (a long winded, but less poncey  way of describing witchhop) shines through – with his soulful rhythms, Burial-esque, high pitched vocal samples, and post-dubstep bass programming often sounding like an energised Holy Other or Balam Acab. Across his EPs, Lapalux switched between genres – electronic pop, hiphop, dubstep, house, etc – but on his newer productions it feels like he has found his singular voice: essentially a combination of all these genres. The result isn't a hectic kaleidoscope of sounds – as one might expect – but a full, streamlined direction; one that succeeds in creating an accessible hum with enough colour (glitches, woozy basslines, and intricate time signatures) to ensure progressiveness.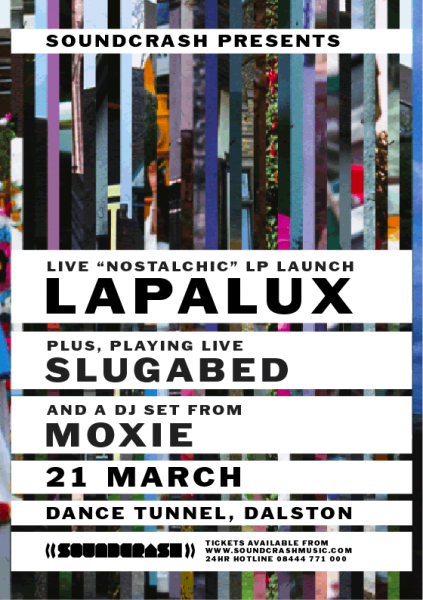 Despite the beauty of his new productions, It's ultimately the older tunes that get the greatest reception – particularly 'Gone' from When You're Gone and the piercing 'Forgetting and Learning Again' form Some Other Time. Despite one particularly f***ed fan's attempts to derail Lapalux's focus and patience (an ape-man and wannabe MC clowning about next to the decks, prodding and grabbing Lapalux, and screaming incoherent praise), Stuart Howard's sweet enthusiasm for his craft, and his appreciation of the crowd turning out on a Thursday night, is evident when he flashes a final cheeky grin, and nods in a mini-bow. If all is right in the world, Nostalchic will elevate Lapalux to the forefront of the Brainfeeder collective.
Clive Paris Rozario