TO THE BONES – Emperor's Ride
aaamusic | On 02, Apr 2013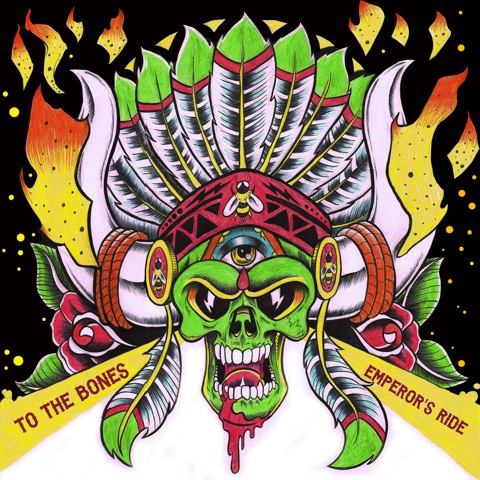 "This is a song about being reborn," snarls frontman Rhys in To The Bones' new single, 'Emperor's Ride', and this latest cut from the Bolton-based noisemongers does indeed sound like a band given a new lease of life. Almost three years since the release of the Astral Magic EP, 'Emperor's Ride' sees the band, with two new members, strip back their sound to a more sharply-honed, heavier version of their first album's ferocious metal-grunge-punk onslaught.
The song begins a driving tomtom-battering drum rhythm and bassline that toes the line between melodic and "impossibly distorted." Then the guitars kick in for the main riff, booting the song into full throttle. Carried over from their previous material is their habit of paying tribute to Mudhoney and Motörhead with heavily distorted bass, guitars drenched in feedback and roaring fuzz, Rhys' unique vocal style that lurch from languid baritone mutters to a rabid yowl, and Tommy's pounding drums which are absolutely relentless throughout this track. Here also is a surprisingly catchy chorus courtesy of a poppy chord progression placed sneakily into the chorus. It may be argued that this is a bit basic compared to the the glockenspiel opening on 'Sharkie's' or the twisted music-box-meets-an-undead-psych-rock-guitar-solo atmosphere of 'Monster'. Yet the band have taken lessons from the stoner-prog experiments on previous EP, working on their ability to create a skewed "three-minute pop song" with savage levels of distortion, while using a cleverly shifting rhythm in the drums of the riff and a slower, stomping post-chorus refrain that pulls back the guitar and changes the rhythm to an almost military-style snare roll. New bassist Jude's bass tone adds a whole other dimension to their sound too, a roaring low-end rumble sounding like Lemmy guesting on an Alice In Chains LP. The song ends with a deft use of stop-start dynamics on the juggernaut riff, snapping to a cliffhanger ending that leaves the listener thirsting for more.
While in some ways a nod to To The Bones' early sound, 'Emperor's Ride' shows a clear rise in songwriting and technical ability from the band rather than simply backpedalling to familiar territory. If you like your rock to hit hard and fast and with Seattle's entire distortion pedal supply filtered through northern England's "new heavy" music renaissance, you need to get your ears round this.
Katie H-Halinski