EVENING HYMNS – Spectral Dusk
aaamusic | On 16, Apr 2013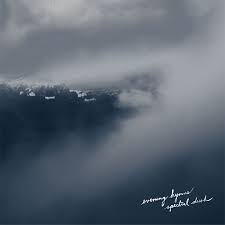 Canada's Evening Hymns comprises Jonas Bonnetta and a rotating folk collective of musicians including members of Ohbijou, The Wooden Sky, The Burning Hell, The D'Urbervilles and Forest City Lovers. His music probably appeals to fans of Bonnie 'Prince' Billy, The Wilderness of Manitoba, Josh T. Pearson and Bon Iver.
Spectral Dusk, his second album, was released on 8th April, 2013 on the Tin Angel Records label. The album title was taken from John Steinbeck's East of Eden. It was recorded in a log cabin in Northern Ontario and produced by James Bunton.
After the death of his father, Jonas gradually came to terms with the tragedy by sharing his personal thoughts and feelings with others. Spectral Dusk is an intense and reflective album about the pain, confusion, frustration and emptiness of losing a loved one. It intimately tells of grief, happiness, celebrating life and ultimately letting go.
Through hope, optimism and forward thinking Jonas found  "a pathway drawn out of the dark into the light," where healing was possible. Spectral Dusk has a warm and ambient tone crafted with soundscapes and field recordings where Jonas is joined by a piano and a choir of voices. The curious drones and strings of Irving Lake Access Road probably make the track the most mysteriously beautiful on the album.
Track list: 1. Intro 2 .Arrows 3. Family Tree 4. You and Jake 5. Cabin in the Burn 6. Asleep in the Pews 7. Spirit in the Sky 8. Irving Lake Access Road 9. Song to Sleep To 10. Moon River 11. Spectral Dusk.
Anthony Weightman