iTAL tEK & My Panda Shall Fly at Birthdays – May 26th – Bank Holiday
aaamusic | On 22, Apr 2013
Sunday May 26 2013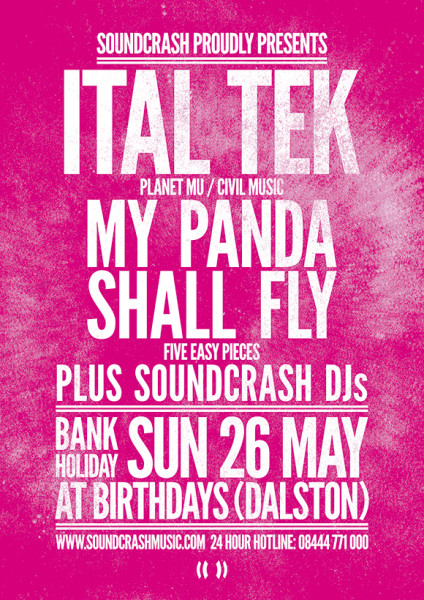 Soundcrash present…
iTAL tEK
at Birthdays
Plus special guests:
MY PANDA SHALL FLY (DJ Set)
SOUNDCRASH DJS
Civil Music and Planet Mu electronic music purveyor iTAL tEK descends upon Birthdays' basement sound system to deliver a heavy dose of footwork  and techno inspired electronica. Just as contemporaries Machinedrum or Kuedo, iTal tEK infuses his dextrous fluttering rhythms with carefully laid sci-fi arrangements that transport the listener to futuristic dream-scapes, all the while giving the dance floor a good old spanking.
With two full length albums and numerous EPs under his belt, iTal tEK has carved his own niche in the broad spectrum of music referencing classic Electronica, Hip Hop and Techno blended masterfully to create his own style of hard hitting and melodic bass music. With the likes of Surgeon and BBC6 mainstay Mary Anne Hobbs both flying the flag for iTal tEK it is safe to say the Birthdays soundsystem is due a workout of May 26th.
My Panda Shall Fly should be a name that rings a few bells. It's the creative alias of South Londoner Suren Seneviratne, a Sri Lankan-born visual artist, producer and creator of peculiar and exciting future electronics. A firm fixture on the London electronics scene, his unique musical excursions on Growing Records and Five Easy Pieces have found him being welcomed to The Boiler Room, Off Modern and BBC Introducing just in the last few weeks.
Expect the high quality of music from the Soundcrash DJs as you have become accustomed to in the past. A cracking night all around!
Event: Ital Tek & My Panda Shall Fly
Line-up: iTAL tEK (2 hour set), My Panda Shall Fly (2 hour set), Soundcrash DJs
Date: Sunday May 26th 2013
Times: 9pm – 3am
Venue: Birthdays
Address: 33-35 Stoke Newington Road, London, N16 8BJ.
Tickets: £5 Early Bird, £9 Advance, more on the door
Available from: www.soundcrashmusic.com
ARTIST LINKS
iTAL tEK
My Panda Shall Fly
www.facebook.com/mypandashallfly
www.twitter.com/mypandashallfly