Skid Row – Live @ HRH AOR Festival
aaamusic | On 22, Apr 2013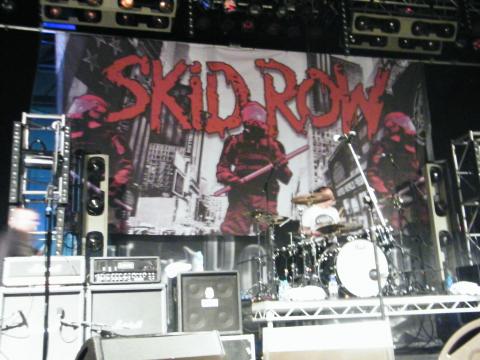 Rotherham, April 6th
Opening with 'Slave to the Grind' you think you would be instantly impressed but it falls a little flat and 'Big Guns' is much better with singer Johnny Solinger not having the vocal range to hit all the notes, but don't think this is a bad set by Skid Row because it isn't they pick up the pace and get better and better as the set goes on.
The bass kicks in and Scott Hill blasts you with the opening riffs of 'New Generation' a newer track in the bands artilary that really hits like nothing else and you then realise the band can turn it around and bring it on like nobody else. Scottlooks cool as hell, looking like he could be in Avenged Sevenfold as he blasts his bass and goes mental for the sound.
The material Johnny Solinger recorded with the band in tonight's set is all killer an no filler and he even does a great job on tracks like 'Piece of Me' and 'Let's Go'which sound so big in the large room of the AOR festival. 'Let's Go' sounds incrediable and makes you wonder what other new songs are as good, I am so looking forward to hearing 'United World Rebellion: Chapter One' which I am sure is going to be a pleasant surprise after hearing how good this track is.
'18 and Life' is a nice sing-a-long but their is something missing in the sound of it and it falls a little flat and doesn't really stand out in the set, like it should do. I do swing my hips to 'Makin' a Mess' that just makes me want to shout out as many lyrics as a can this is a song that Johnny has put his mark on and brought it out like a warhead on the audience. Rachel Bolan looks as cool as ever and does silly faces as he shreds away, while Dave 'The Snake' Sabo blasts you with his dynamic guitar sound.
Kicking in with another great new track 'Kings of Demolition' off the up and coming release you realise Skid Row are back and with full force. They delight you with this before doing an awesome version of 'Psycho Therapy' by the Ramones which is more kick ass than ever.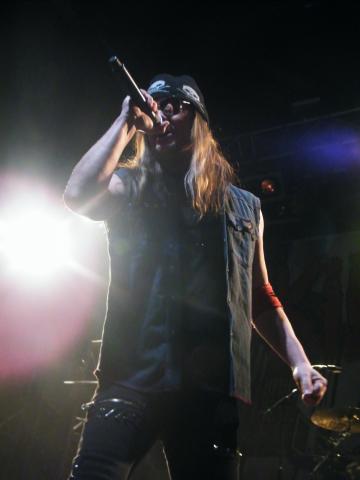 'I remember You' is a nice interlude and 'Thick is the Skin' is nice and it's heavy riffs get you going for when they end the main set with the anthem Esq 'Monkey Buisness' which makes you push around your friends and go crazy to the riffs on show. It's time for some 'Monkey Buisness' so beware the girls around you…
When they get to the encore you realise the party is really coming on furiously and manic with tracks like 'Riot Act' and 'Get the F**k Out' just giving you reasons to go crazy! These are too massive highs in their set and can't be beaten by any modern day track. They end on their biggest hit 'Youth gone Wild' which everyone knows every word to, and you just wonder when they are playing next. Because you will be their down the front with a bottle of Jack Daniels, when you mention the words Skid Row you know that it's going to be a mad evening but also one you will never forget. I loved my time with the Row in Rotherham and I personally can't wait to do it again.
Skid Row – Setlist
—————-
Slave to the Grind
Big Guns
New Generation
Piece of Me
18 and Life
Let's Go
Makin' a Mess
Mudkicker
In a darkened Room
Kings of Demolition
Psycho Therapy
I remember You
Thick is the Skin
Monkey Business
—————————
Riot Act
Get the F**K out!
Youth gone Wild
Review and Photos: Dan Devour