XXYYXX, Blackbird Blackbird, Slow Magic, Giraffage – Live @ KOKO
aaamusic | On 07, May 2013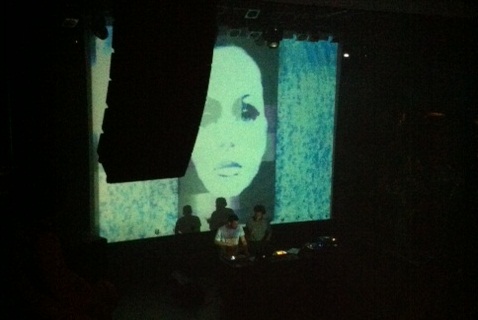 Saturday May 7th
Premier culture platform The Playground is pretty renowned for its meticulous event curation and promotion, but nothing could have prepared me for the sublime KOKO takeover on Saturday night. Although it was the immense lineup (courtesy of the UK leg of the Europe-wide 'Set It Off' tour) that was, naturally, the key source of the success, it was complemented by perfect sound, seamless artist changeovers, added visuals, and even polite and professional security, plus a baying, excitable crowd not seen in London since…ever.
Personally, I always find it a pleasure to kick off a night of producer-DJ action with some live, band-orientated music (e.g. Hidden Orchestra opening for Daedelus at KOKO, or Anchorsong and his strings duo opening for…Daedelus, at…KOKO. Sudden realisation: I spend a lot of time at KOKO, and I spend a lot of time watching Daedelus). Tonight the growing crowd is treated to a short set by promising South London four-piece MT. Wolf, who blend indie-folk, haunting neo-soul, and moody electro-pop. Predictably, the band have been labelled folktronica, but, in reality, it is only the inclusion of a live acoustic guitarist that can justify using such a term. Singer Kate Sproule's vocals are damn beautiful, at times recalling a relaxed Bjork, and the music – although a little rough around the edges – offers an agreeable mix of Alt-J, The xx and Jamie Woon.
After the instruments are cleared away a sizeable white screen drops down the back of the theatre, ready for the night's accompanying visuals, and the decks and equipment are wheeled out for this series of acclaimed American producers. First to step behind the mixing desk is San Franciscan Charlie Yin – aka Giraffage – backed by some visuals that consist of some creepy, sped up, black and white Asian cinema clips. On record Giraffage makes gorgeously sparse, glitch-hop slash pop, part Gold Panda and part Lapalux. Although some of this music is showcased during tonight's set, Yin pads out his set with some basslines, instrumental hiphop and a handful of UK electronic music samples. In what transpires to be the most downtempo set of the event, it's the perfect way to ease the now packed out Camden crowd into the night.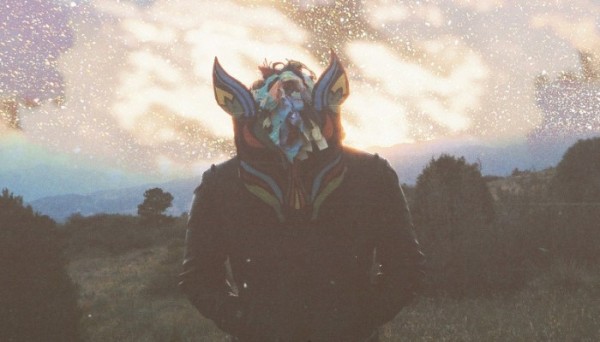 The next set is by far and away the most surprising. I was already familiar with Slow Magic's music – minimal tribal beats, soothing synths and a tinge of instrumental, contemporary RnB (i.e. 'witch-hop' – sigh). This is what he plays tonight, albeit with the synths more prominent and futuristic than on record (think Lone or Rustie). However, there is little in the way of information about this producer on the ol' web (it seems he has managed to remain anonymous, for now). I did not expect him to enter the stage after an extended piece of foreign cinema (possibly something about a Samurai student, or something…), barefooted, and wearing a rainbow splattered, wolf tribal mask (basically SBTRKT with animal ears). I also did not expect him to spend the whole set jumping around the stage and/or banging on a large tom-tom drum. In terms of the set, he essentially just presses play between tracks, doing the odd bit of noodling on a synthesiser, and then spends the rest of the track pummelling away on his drum. Truthfully, although he is not tonight's most technical producer-DJ to watch, Slow Magic is definitely the most entertaining. The freaky mask is certainly a focal point, but his persona is far from disturbing, and his boundless energy resonates with the crowd – at one point he takes his tom-tom into the crowd, with fans circling him as he bounces and drums, and at another point he offers his programming pad to the crowd to randomly sequence some drum sounds. Check out his remix of the Giraffage and XXYYXX collaboration 'Even Though'.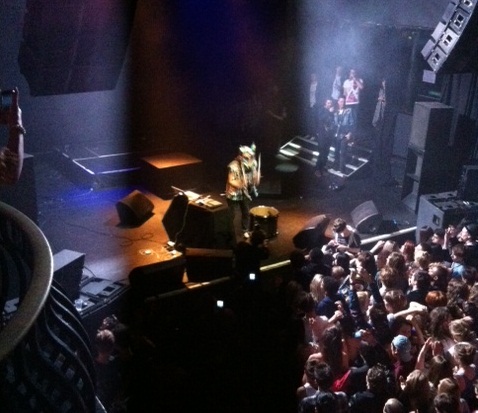 Next up is Blackbird Blackbird – aka Mikey Maramag, also from San Francisco – who adds a little variation to the night's musical landscape. Although he predominantly sticks to what he's known for, which is delicate house-tinted pop, he also mixes in a little techno and electro. Musically, it's lighter than the previous acts, but Maramag occasionally comes out from behind the decks to sing live. His voice is strangely flat (perhaps a result of the constant echo effects), but it adds welcome force to the breezy, bleepy psychedelica of his productions. Plus his spirited headbanging is very amusing to watch.
Time for the main event: 17-year-old XXYYXX. That's right. SEVENTEEN. Florida's Marcel Everett is a man-boy if there ever was one (was there one?). He doesn't look or sound like he's 17, nor does he look or sound anything like the shy, mysterious bedroom producer I imagined him to be. Accompanied by some kind of live visuals manipulator (who, by the way, produces the most interesting, colourful art of the night – visuals don't always have to be Lynchian!), XXYYXX's set is a mixture of his own lo-fi productions and some predictable dance-floor bangers. His own songs (particularly from his self-titled album) are some of the best witch-hop (sigh, again), bass-laced, Burial-esque compositions to emerge in the last few years, sitting neatly next to the output of Holy Other, Balam Acab, Clams Casino, Lapalux, oOoOO et. al. Perhaps even ranking above some of them. Unlike (most of) those producers, XXYYXX's music tends to contain a little more diversification, with snippets of liquid DnB, a fair bit of hiphop, and lots of downtempo house. He's also not afraid of actual RnB and rap, as well as pop music, having released an extremely popular remix of Usher, and sampling TLC's 'No Scrub's' on 'Good Enough' (which goes down a treat live tonight). It's these qualities that have garnered him comparisons to The Weeknd. There are moments of trap and melodic dubstep, but what's surprising is just how deafening the screams are each time he drops one of his own songs – I had no idea XXYYXX was so well-known; so loved. It's not hard to understand why – he is effortlessly cool, good lookin' and amiable, loving every minute of being on stage. And, of course, he's extremely talented, scarily so for a SEVENTEEN-year-old.
Closing the night (as least for this reviewer) is LA resident (Paul) Salva, the RBMA graduate and BBC Radio 1 'In New DJs We Trust' host. Swigging out of a whisky bottle, Salva smashes out a set of trap and hiphop-heavy party music, gyrating as he mixes (almost humping the decks!). It's very fun to listen to, and very fun to watch. Throwing in the odd rewind (this DJ actually has turntables – remember them?), the precision of his mixing is commendable, and not unlike former LA resident Kutmah. It's bass-heavy and boisterous, but a welcome respite from the thinking man's electronica of the past four hours. Those four hours, however, were arguably the most exciting four hours of electronic beats in 2013. Thank you The Playground.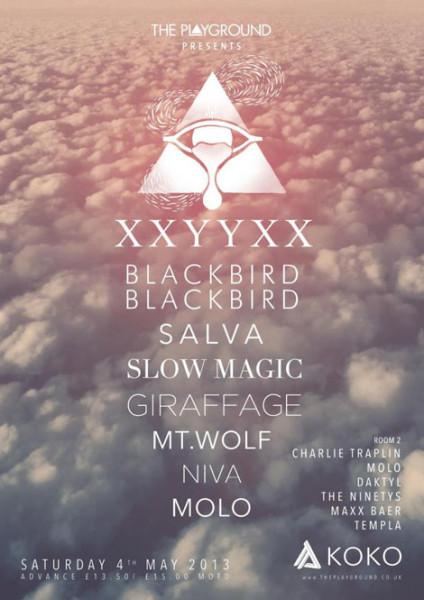 Words: Clive Paris Rozario
Photos: Stephanie Hollox