THE COMPUTERS – Love Triangles, Hate Squares
aaamusic | On 10, May 2013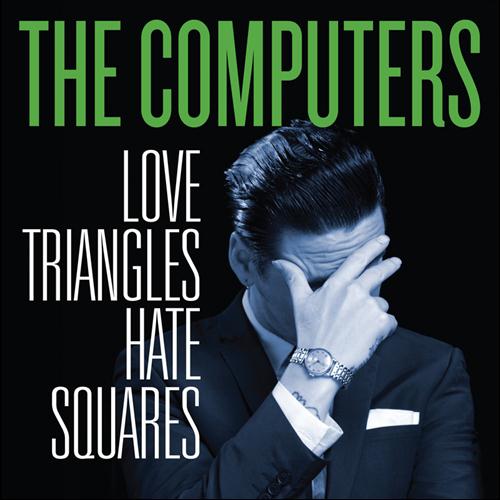 I like rock music. I like it all. I like everything about it. Something about me likes the abuse of having my ears used as sonic speedbags. And, while the tried, tested and retried genre presents one of the broadest spectrums for musical expression, we all too often witness the myopia of those bands that seem content with being one-trick ponies. Not The Computers. Hurtling out of Exeter, the quintet brings with it a wide armament of vintage influences to scream your ears loose with their new album 'Love Triangles, Hate Squares'.
If you've been looking for a band that can get a whole room bouncing from the get-go, then I think you've found them. Opening track Bring me the Head of a Hipster blows the doors off and rocks the room upside down, with relentless shuffling chords that clatter haphazardly over energetic harmonies with searing lead vocals, from smooth yet biting to downright screeching, like Julian Casablancas meets Bobby Gillespie meets Brian Johnson. And with shades of cock-rock dynamism in the vein of Aerosmith, there's even a harmonica in there, adding that subtle edge of daring musical audacity that keeps these guys rocking on the shoulders of other bands that remain content to snub that spark of boldness.
The eponymous single Love Triangles, Hate Squares reveals more from the band's rich pool of influences, from the punchy, fiery guitar purr and slippery, jaunty keys of The Rolling Stones, to shades of their more modern protégés Primal Scream and the Black Crowes, and Mr. Saturday Night lets loose translucent cords smashes, rousing hand clapping and shivering tambourines; even the warm ghost-warble of a Hammond organ puts the icing on the vintage cake.
Something about the band oozes a contagious inclusive energy from the very first outburst, making it a challenge for all but the most joyless of souls to avoid being caught up in it, whether it's the blistering indie-punk barrages or the blues-revivalist pop; you can't accuse them of not changing up the pace. With lyrics that burn with as much lamentation as they do with all-or-nothing vigour, particularly when delivered with such an unpredictable and arresting style, later tracks like CRUEL show a more accessible radio-friendly side to the band; not only are they energetic, bold and ballsy, but they are also catchy – the album has a wealth of gems that could, with any luck, rocket them to success in the mainstream, while retaining those catalytic flairs that keep the more discerning of audiophiles happy.
While the surging, fuzz-soaked riff of Disco Sucks, and the straight and pure rock n' roll of Selina Chinese showcase again some of their harder-edged talents, the final track 'Other People's Single Beds' is epic in the simplest sense, evocative of some of the best stuff out of the 60's, building from honest, harsh and raw to screaming, shattering and crashing all-out finish; simple and bittersweet, and determined to not let your ear off easy, it's a fitting end to an album by a very talented and charismatic band.
Like I said, I like rock music. And so do these guys.  And that's exactly why I love them. With a robust and deeply understood set of influences so impressive it makes me blush, and the sweet sour swagger of Pulled Apart By Horses meets Elvis Costello, The Computers are definitely ones to seek out if you hold any love for mellow-blues-indie-hardcore-punk-rock, or just guitar music in general, if that sounds a little too specific.
Matt Fellows