Emmyou Harris & Rodney Crowell – Live @ Hammersmith Apollo, London
aaamusic | On 12, May 2013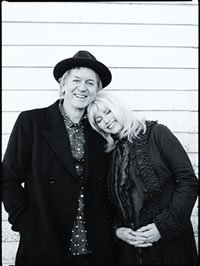 Thursday 9th May
Legendary American singer-songwriter and musician Emmylou Harris has released 25 albums and won 12 Grammys. With her country soprano voice she recently reunited to sing in harmony with Rodney Crowell, the soft Texan who helped her solo career forty years ago. Their recent album Old Yellow Moon is a collection of their country duets.
A fast honky tonk beat in Luxury Liner contrasted with Tulsa Queen, a sad tale of loss, and Bluebird Wine, the song  that first united them, soberly told about sensible drinking. The poetic lyrics in Return of the Grievous Angel spoke passionately about a man returning home and asking the girl he left behind to let him tell her about his travelling adventures.
There was considerable insight to Chase The Feeling, Kris Kristofferson's addiction warning about dangerous demons and in the emotional farewell to Kate McGarrigle, Back When We Were Beautiful, the yearning was for a return to lost youth.
This was a strong retrospective set, quite epic in length, which containing a great deal of variety. The artists were in fine form – tight, joyful and relaxed. It was an evening of great fun and there were some magical moments when we were reminded that those mature, husky voices sounded just as fresh and exciting as they did in previous decades.
Anthony Weightman