AAA Music Approved: Raven Black Night
aaamusic | On 23, May 2013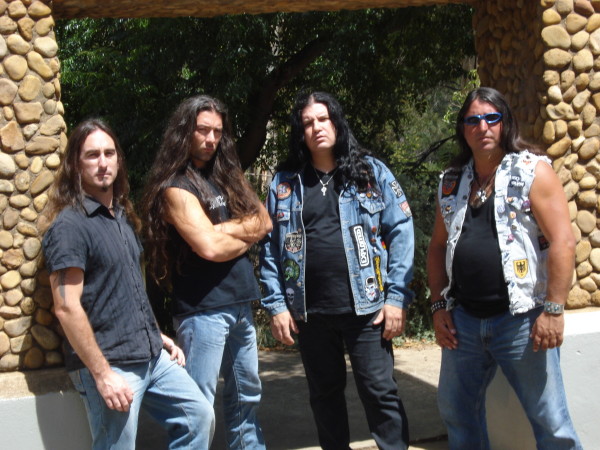 AAAmusic: Who are you and where are you from?
Greetings…Well my name is Jimmy Petkoff. I was born in Australia to Slavic parents who migrated here many moons ago. I play in a hard rock doom metal band called Raven Black Night, after playing for over ten years in my rock blues band and hard rock band The Loving Tongue (still active). I met Rino the Raven in 1999 while drinking and chasing girls ha!!!!!!!. We discovered a common love of heavy metal, hard rock and posing!!!!! From there, Rino introduced me to our first line up of Raven Black Night – Matt Spencer (bass) and Jeremy Lamas (drums). We recorded a few successful demos before settling on our first official recorded line up of me, Rino, Matt and Joe Toscano on drums to record our first independent CD – Choose the Dark. From there me and Rino have been the mainstays of the band.
AAAmusic: What inspired you to get into music?
There were a few inspiring moments in my life when I was eight years old. I was fascinated by Bon Scott and AC/DC; I would play Highway to Hell over and over. From there, when I was 14, I went through a heavy blues/rock phase – Stevie Ray Vaughn, Cream and Eric Clapton, Jimi Hendrix, Muddy Waters, ZZ Top, and, ten years after, early Fleetwood Mac. I also loved Yngwie Malmsteen, Steve Vai, etc, and Van Halen. My main influences along with that were the great classic hard rock bands like Led Zeppelin, Black Sabbath, Deep Purple, Uriah Heep and Rainbow – I think Dio and Ritchie Blackmore really helped me go in a heavier direction. My influences come from all styles of music. I have no parameters – I just put it in the genre I am playing.
AAAmusic: What have you done? 
Well that is a interesting question in this band. We have only released two official CDs, with unofficial demos. I am proud of both albums – Choose the Dark (independent) and the Barbarian Winter (Metal Blade) in 2013 – and of course I am flattered and very proud for it to be released through Metal Blade; it is a dream and I hope we can record many more kick ass albums for the label. I guess our slow work rate adds some mystery, but in reality we have fought hard to get to this point and just played our asses of. I am also proud of some recordings outside of Raven Black Night: my work with The Loving Tongue and other projects. I am really looking forward to the next Raven Black Night album – I feel we have written our best material to date, and the best feeling is the kind comments from our fans when we meet them, live and through the social media, etc. The sky is the limit.
AAAmusic: What are you like live?
I will say this: Every line up of Raven Black Night has gave 110 per cent no matter the size of crowd. I have said this before: this music demands it, it is a very demanding band emotionally and physically – you cant hide you must be real. Some highlights so far would be playing Germany 2007 at the Headbangers Open Air 2007, on the same bill as Candlemass and Rage, to playing extreme metal bills like Hells Pleasure (Germany), Armageddon, Adelaide, and getting the fans on our side to numerous festivals across Australia. There are so many shows over the years when the crowd invaded the stage. We have supported Paul Dianno and Tim Ripper Owens. Most times we get overlooked for supports slots here – that is cool, we are not afraid to stand alone.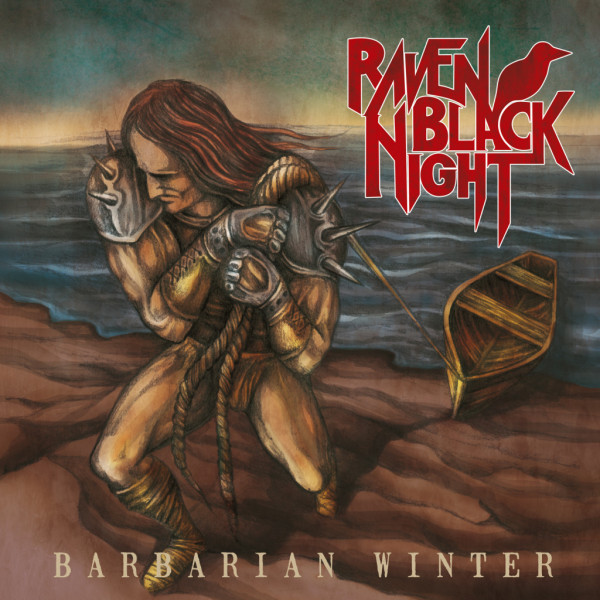 AAAmusic: What makes you different? 
I think coming from different places – me from my blues/rock background, getting more influenced by hard rock, Rino the Raven with his love of Kiss, Discharge, Slayer, Black Sabbath, hardcore punk and now Ghost ha!!!!!! Seriously, we met at Black Sabbath. Various members had influences from death metal to progressive. We have a slight twist or turn, as some one once described us. We are here now.
AAAmusic: Physical vs Downloading vs Streaming…How do you listen to music?
To be totally honest with you, I am old school. I still love buying the CD/vinyl of the artist I want to hear. Many people have gave me burned CDs – I just don't listen to them, I don't know why. I must have bought Led Zeppelin IV and Rainbow Rising 20 times – Getting harder to do it, I must say. I don't have an iPod. My ex-girlfriend gave an MP3 player. To the frustration of people around me, I still play tapes and vinyl/CDs. Rino the Raven (guitar), who loves garage sales, bought a whole lot of cartridges from the 70s; he also has an old 1920s record player that plays cylinders. In saying all this, the new formats are here to stay; we just have to find a balance and adapt. I heard the argument tape trading was the same as downloading today. I think tape trading was more innocent. The key word here is culture – are we losing respect for the hard yards an artist does to record their music? Is it too easy to find and get for free? But it is as it has always been. I have many friends who only listen to the radio and never buy music – maybe we need more cutting edge stations on the air. Why is metal strong today? We never had mainstream support. Maybe it's time for the metal factor and the metal voice ha!!!!!!
AAAmusic: What have you been listening to?
I always listen to my favourites: Led Zeppelin, Deep Purple, Rainbow, Black Sabbath, etc. I have recently been getting into Pentagrams last album – we always have had comparison, so I checked it out  and I love it. In addition, I have been checking out CDs from Citith Ungul and Candlemass – we seem to get compared to them. I must say: very flattered that we do, they are great bands.
I guess a lot of classic rock mixed with some world music and whatever my heart comes out with. I'ts 24/7 – can't switch it off. Life inspires me, a lot of sounds in the air…I love artists from John Coltrane and Mozart to Lemmy, to any hard rock/metal bands which are true.
AAAmusic: What are your aspirations for the future?
I would love to tour our asses for the new CD, release a lot of good music and bring it to the people. For now, we will promote the new CD and get people to know us. I am also keen to record our new material for Raven Black Night. I think is some of the best we have written yet.
Thanks for your time. Stay rocking, and see you on the road.
Questions answered by: Jim of Raven Black Night…