A CHAT WITH: ZEE GACHETTE (Z-STAR)
aaamusic | On 05, Jun 2013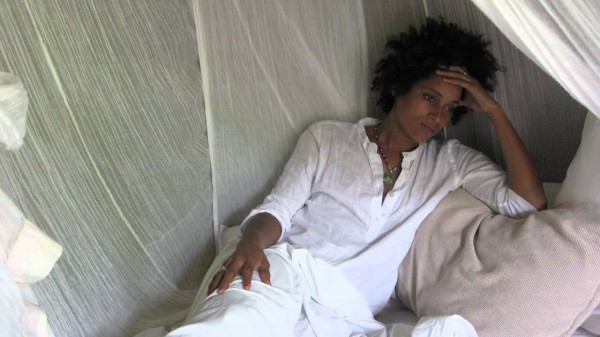 Trinidad born Zee Gachette is a classy, elegant singer-songwriter, producer and poet.  She blends jazz, rock, soul, blues, acoustic and Latin in her own individual way. In 2010 she won Best Live Act at the Brighton Music Awards. Her admirers include Nigel Kennedy, Terry Callier, and Jimmy Page. AAAmusic interviewer Anthony Weightman chatted to her at Camden Lock following her performance at Dingwalls.
Anthony Weightman (AAAmusic): Firstly, congratulations on the release of your latest EP and your forthcoming dates in France and Austria . Could you tell me how you're feeling about these new gigs? Are you optimistic?
Zee Gachette: I'm excited. So may people are doing things in their lives that they have to do, that they don't want to do. I'm doing something that is beyond my control. It's in my blood and I have to express stuff. I have to be grateful and thankful for that, that I'm able to do it. But the most important thing is that it makes me happy and I feel that that's an infectious thing. Something I want everyone to feel. To feel good. I don't want to say that it's all light, because there are shadows. But the point is that the light shines bright.
Anthony Weightman: Your music has been described as 'tribal'. I suppose you're pictured as the fiery, powerful chief offering spiritual guidance and your creative hunter gatherers are weaving their magical spells.  Do you see your music like that?
Zee Gachette: Wow! That's nicely put. Definitely. I always feel like I'm pulling all the energy from the roots beneath me. If you could imagine? When I'm performing there are a lot of things that are happening. Not just the singing or the songs or the band. It's the visuals, the colours, the shafts of light and feeling all these roots like electrical currents coming down through my legs and down through the ground. It shakes me. That's what I see. Fine lines of energy that go out and connect to everybody. If that's tribal, a human energy thing, then that's probably what that is.
Anthony Weightman: A journalist once said that 'there's something sophisticated about your sound'. Personally, I'm always a bit cautious about this word because the most loved anthem that a jazz musician is known for is often the simplest one. Is sophistication something you strive for?
Zee Gachette: I don't really think about that. I just write a song as it comes. Whatever I have to say, it comes that way. The musicians come and they just jam and they feel it. It's really about being in the moment and feeling it. If it can come out more intricately like 'this is a lotus flower', then that's what it is. You can't take away the fact that it's a lotus flower. But, if it comes out like a can of Fosters, then drink it and be happy.
Anthony Weightman: Personally, I've always found that what you're trying to say through your music is fairly clear, but there seem to be people who just can't make you out. They think you're an enigma, a mystery, a puzzle they need to solve. How do you feel about these sort of comments?
Zee Gachette: Well, don't you like change?
Anthony Weightman: Very much so.
Zee Gachette: I think change is a beautiful thing. People like to know something. What something is going to be. What a genre is going to be. Put you in a box. We're not living in those times any more. This is all about evolution now. This is about people expressing themselves. You can't take away the fact that we're living in a time of choice. We've got plenty of choice. People say 'too much choice'. But, the truth is there's a lot of choice. I say, if you were born in a small town and you have a big dream, and that dream takes you to the furthest island, then you've lived.
Anthony Weightman: 'Who Loves Lives' you called your album.
Zee Gachette: That's the point. We're here to experience. So, let them keep thinking it's a puzzle.
Anthony Weightman: The first time I ever saw you was at the Union Chapel when you supported Terry Callier. He was an amazing man, very sadly no longer with us. I've been amongst audiences who were completely spellbound and you could literally hear a pin drop. There was something magical and quite extraordinary. Could I ask what your personal memories of Terry are?
Zee Gachette: He was just a… how can I say…an extraordinary human being. He followed the Sufi religion. There was something about him. I met him on the streets in Kilburn. I'd been a fan of his music for years. I saw my acoustic god coming towards me. I thought 'oh my god it's Terry Callier'. He came to a show. He was such an amazing and sweet person and his lyrics were always about the time, in the present. I miss him.
Anthony Weightman: It's also interesting that, when he sung about his religious beliefs, there never seemed to be a mood of embarrassment or awkwardness in the audience, which is something you quite often find in that sort of situation. To me, that just wasn't there.
Zee Gachette: These days artists sometimes think not to bring politics or beliefs into it, but keep it neutral. Here's the point. You're an artist. People live through your music and that's the truth. People identify with things. I think it's good to go 'this is what I stand for and what I believe in'. Some people might not like it, but it's really important. It's not about pushing the actual religion. It's more about saying that this is what I believe in. You've got to respect somebody who can stand up and say that this is who I am.
Anthony Weightman: If anyone tried to cover Terry, do you think they could realistically hope to do a better job?
Zee Gachette: I think covers are always different. I wouldn't say it would be better. I say it would be a different path. We're always being inspired by other artists, not just musical artists. I think that we're all very like sponges. We take it in. We listen to stuff. Things filter through us and through the music. People say 'that makes me feel something'. It'll make you feel a certain energy. I could have been been listening to Hendrix and then I'd be inspired to write a song from the mood that that music created. We're always being inspired by each other.
Anthony Weightman: Jimmy Page has described you as a 'force of nature'. I've actually climbed the Welsh mountain and walked through the archway of flowers to the isolated cottage Bron-Y-Aur, where Led Zeppelin wrote some of their classic numbers like Since I've Been Loving You. There's something very special about that place. Do you think that there really are very unusual natural places that are hugely inspirational for a musician?
Zee Gachette: Absolutely. We're really talking about lay lines, if we're starting to get into it. Music is a force and an energy. Some people tap into that. Others don't. Personally, for me, some areas have that. With certain landscapes you can't help but stop. You stop and all the noise goes away and it just becomes silent and still.
You let go of everything that is pulling you in different directions. You just let go and one thing holds you. Just what you need. Earth's gravity. Your feet in the sand.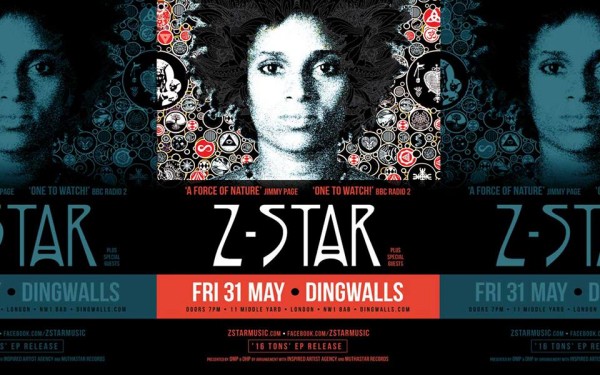 Anthony Weightman: Loneliness is perhaps a bit of a strange subject after such a gathering of people tonight, but you do touch upon it in your music. In fact, something like a third of all British homes have just one person living in them. They're not necessarily lonely people, but do you feel that this subject isn't sufficiently discussed or understood?
Zee Gachette: Well, my grandmother unfortunately used to say 'you're born alone, you're going to die alone'. It's a bit of a cynical thing.
Anthony Weightman: But, there's a lot of fun in between.
Zee Gachette: I guess. Seriously though, it's one of those things which is a choice. You don't have to be lonely. There are periods in my life when I was on my own and I would go out in the night and cycle. Sometimes through the city. I was living in London then. I had Miles Davis blues in my head. I would go and observe people and sometimes I would stop and start talking to them. You don't have to be lonely. It really is a choice.
Anthony Weightman: I know you're a Jimi Hendrix fan. It's said one of the reasons he became so good was that his guitar never left him. If he was frying breakfast in the kitchen, it would still be there around his neck. Do you think that degree of commitment really pays off if you're a musician.
Zee Gachette: I think that commitment is everything, but passion is greater. I think life is about passion. I think it doesn't matter if you're a musician or a painter or a bricklayer. You have to be passionate about what you do. If you're passionate you're going to enjoy it. With every brick there's a dimension and you have to lay it perfectly. People who are passionate get what life is about. What is 'succeeding'? For me, people go 'path, destination'. In the end it's what you do in a moment of free will. Your actions change things in your life. People sometimes look too much towards that end destination. What about that beautiful path? That voyage is a beautiful thing. Last time I was in Brooklyn, New York, every person I passed said 'good morning'. You think about being pleasant. Sometimes you forget a little about that in the UK, unless you're in the countryside. People shouldn't change. Today I was thinking about a song about not changing who you are. Sometimes you feel you have to be a different person to protect yourself around another person. They can't see what you see. Don't ever change who you are. Always stay honest and always with that good intention.
Anthony Weightman: Yes, it was Shakespeare who said 'to thine own self be true'. Your roots are in Trinidad in the Caribbean. When I was at the St. Lucia Jazz Festival I came across the view there that not enough fine Caribbean live acts are coming to Europe. Do you feel that this is true?
Zee Gachette: Well, it's a funny thing. With Caribbean music, it sometimes gets stuck in a genre. Essentially calypso. They come to Europe for carnival. It's a hard one for me to comment on because I don't go to the Caribbean very much. My sound has elements where you can tell my heritage, but I consider myself more of a blues woman. I'm going to Brazil though, which I'm very happy about. Hopefully I'll go back to the Caribbean from there.
Anthony Weightman: I'm a great fan of 'the queen of Latin jazz' from Brazil, Tania Maria, who I saw at the St. Lucia Jazz Festival.
Zee Gachette: Aww! Tania Maria!
Author: Anthony Weightman