AAA Music Approved: Turnpike Glow
aaamusic | On 13, Jun 2013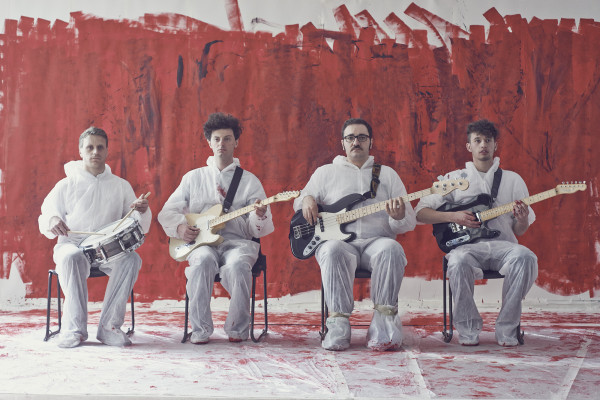 AAAmusic: Who are you and where are you from? 
Giuseppe and I formed the band in Rome whilst still at uni and then moved to London 4 years ago. Here we met our drummer Anthony and started the whole thing again from scratch. Our guitarist Tom joined the band  year and a half ago.
AAAmusic: What inspired you to get into music? 
Bands such as Pavement, Flaming Lips, The Shins, Broken Social Scene and The Beta Band have been the main reasons why we wanted to be in a band.
AAAmusic: What have you done?  
We released our debut EP 'Inflatable Optimism' last year and were pretty chuffed with the reaction. People we have huge respect for such as John Richards from KEXP and Lauren Laverne have shown some love and that felt good. Looking forward to see what people are going to make of our new EP.
AAAmusic: What are you like live? 
The typical live show really: we're joined on stage by fire-breathing performers, tiger cubs and dancing bears. A great gig we had was at our launch party for the single 1986. It was at one of our favourite nights to play, Geek Out at the Wheelbarrow in Camden. Whilst the venue is small, the atmosphere is warm and loud. We supported Citizens on that night and the place was packed.
AAAmusic: What makes you different?
Not sure. People pick the most varied influences when describing our music. Some of the bands we get associated to have never been on our playlists. But I guess that's a good thing
AAAmusic: Physical vs Downloading vs Streaming…How do you listen to music? 
We listen to everything, everywhere. There's no point in getting too nostalgic over vinyl, although that sublime scratch sound is simply unbeatable. Legal downloads are the way forward, even though the industry hasn't quite found the way to make it work properly.
AAAmusic: What have you been listening to?  
'Trouble Will Find Me' by The National has been at the centre of my attention for the last two weeks. Can't wait to see them live again at Alexandra Palace in November. The latest Vampire Weekend record is a rare piece of understated beauty. 'Ya Hey' is nothing short of amazing.
AAAmusic: What are your aspirations for the future?  
We're writing new material for our first full length, so that's our main focus right now. The aim is start touring when our debut album gets released.
Questions answered by: Sandro from Turnpike Glow…