TURNPIKE GLOW – Fünke Pop EP
aaamusic | On 18, Jun 2013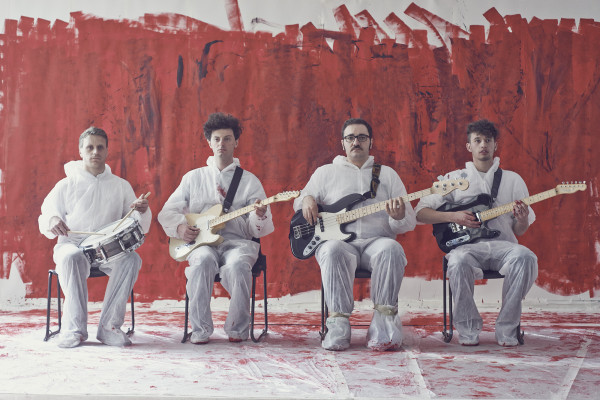 After the success of Turnpike Glow's debut E.P Inflatable Optimism, coupled with praise from the likes of BBC6's Lauren Laverne & KEXP, the London based Indie Art-Pop outfit have returned with their latest release Fünke Pop.
Opening track 'Heels In Madrid' doesn't quite embody the image of 'Funke' but all the same sets an experimental & atmospheric tone for the E.P. Imagine early Coldplay but with added synth lines coupled with a more groove orientated rhythm section, resulting in a melodious dream-like song which sees full use of the bands harmonies and technical ability.
Second track 'Her Flaming Lips' sees Turnpike Glow's more upbeat Pop side emerge. Although the title pays homage to the bands influence The Flaming Lips, the song more resembles an Indie-Disco sound of modern bands like The Wombats rather than the Alternative Rock Flaming Lips. This isn't to say it doesn't live up to any expectations, quite the opposite. The drums are clearly the driving force behind this song allowing the other instrumentation to create catchy melodies and hooks making 'Her Flaming Lips' the definite E.P 'Single'.
Following on, 'Debussy' continues with this theme of upbeat Pop whilst showcasing Turnpike Glow's more comfortable take on the Indie scene. The more heavily produced 'Debussy' gives a slightly more experimental twist using samples of whips/claps on the snare whilst synths filling out the space during the verses, overall this comes together to make a generally okay track. Unfortunately the song ultimately feels linear in places resulting in lack of engagement and being memorable.
Closing track 'A Sentimental Song' unfortunately follows this same feel. Although the track still continues with that up-beat Indie feel using funk-ish guitar lines and offbeat drumming to create a happy-boppy aura around it, this becomes the track's downfall. Like many other Indie bands the challenge of originality and unique identity seems to be a harder goal to achieve in recent years, there are great sections during this closing track of originality with interesting drum parts and spacious guitar work but ultimately lacks in these spouts of originality.
Overall Fünke Pop is a good showcase and follow-up E.P, with two very catchy and recognizable tracks Turnpike Glow's stamp on the Indie music scene may not yet be established, but certainly is close.
Daniel Garnham