AAA Music Approved: Blitz Kids
aaamusic | On 21, Jun 2013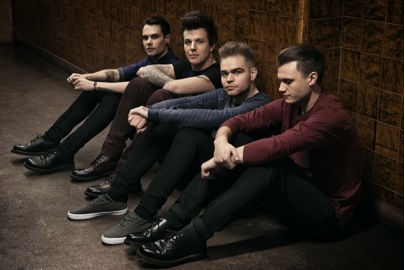 AAAmusic: Who are you and where are you from?
We're Blitz Kids and we're from Nantwich, Cheshire. We went to school together and have been playing music together for years. It's taken us this long to find our sound.
AAAmusic: What inspired you to get into music?
Music is the best thing in the world, that's why we got into it. We just take the best bit of all of our favourite bands and throw it into one big melting pot to see what comes out. We all listen to a wide array of genres.
AAAmusic: What have you done?
So far, not much. We've been taking time to perfect our sound. Now we're ready to make an impact. Our second album is coming out in September so hopefully people can relate to what we've created.
AAAmusic: What are you like live?
We try and be as energetic as possible. The best tour we've ever done was with Lower Than Atlantis. We did a short stint in Ireland with Young Guns too which was great. My favourite show ever was opening the second stage at Download though.
AAAmusic: What makes you different?
We try and have a personal relationship with our fans. A lot of bands don't interact, but we do our best to make sure the fans have the best experience possible so they can relate to what we do a lot more.
AAAmusic: Physical vs Downloading vs Streaming…How do you listen to music?
I love vinyl, but that's obviously not going to be the way everyone listens to music. Spotify is a great way to find out about new artists and iTunes is the way everyone buys music these days. It's easier than having a huge CD collection to carry everywhere you go, but it is nice to have the real thing in your hands, rather than just a digital MP3.
AAAmusic: What have you been listening to?
A lot of The Computers new record. It's a belter.
AAAmusic: What are your aspirations for the future?
Hopefully just carry on playing music and more and more people coming to watch us. You can't really ask for more than the opportunity to be able to do what we do for a living, so long may it continue!
Questions answered by: Jono Yates (guitar) of Blitz Kids…