BLISSFIELDS 2013 – Live Review
aaamusic | On 24, Jul 2013
This slideshow requires JavaScript.
Small yet grand, stylish yet oldschool, Labrador yet lobster thermador, it's all here good people of the UK….. this is Bliss(ter)fields 2013, and yes it was hotter than a snakes ass!!
So, once again the good ship aaamusic rams the tranquil shoreline somewhere in the middle of deepest, hottest Hampshire, and stormed the beaches on a Thursday afternoon to be gunned down (well bowled over) by a sea of marauding punters ready to get their crazy on. We advance to contact and set up camp near the objective (the sun has fried my delicate melon and I'm sprouting waves of garbage…… some would say this is normal – I disagree and blame exposure).
So, the fields are filling up very quickly, and most have decided that clothes are not really required – I decide to keep my vast structure under wraps as the sun and my see-through mass do not get on.
We sit and talk about finding a cold river, and dipping our bots in for a cool down. We couldn't find a river. Hot bots all weekend!
Thursday is very well underway at Blissfields, the party has started (right), the stalls, bars, food trucks and everyfink are in full swing, punters are happy and things are rolling along. Me and my trusted chummies, head for the main arena for a good '*check-it-out' (*see Check it out! With Dr. Steve Brule for examples).
God (and the baby Jesus) like Blissfields a lot, and it shows, they provide the lovely fields, the shady trees, the very infrequent cool breeze, and of course they make it so that it never rains at Blissfields (not 100% factual). God (and the afore mentioned baby Jesus) do not on the other hand provide a cure for a bad hangover on a hot day – DANG!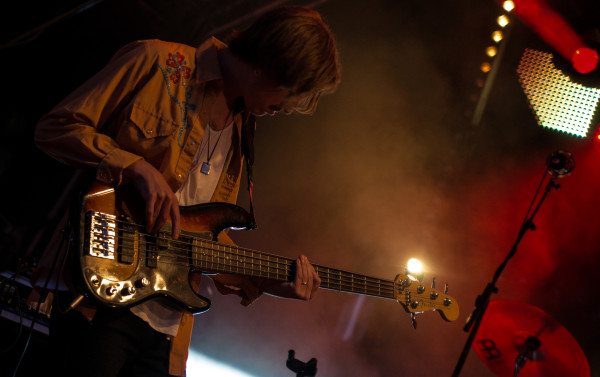 The trees provide a most welcome shade and we jump from the main stage to a cosy wooded 3 piece lounge set for most of Thursday, and go check out the noises a-thumping from the nearby tent stage.
Although the festival proper, doesn't start till Friday, it may as well be a 3 dayer as Thursday feels like we've got going already, and its shows, everyone is in full-on party mode. We got bands, beer and a party to go to later in the night. How do we cope?, not well…
Friday explodes into existence at around 6am, with everyone up and about due to the intense heat turning our nylon caves into sweat palaces. So, we gather breakfast together and join the massive cook-off.
The site starts to come alive around 9am and we venture in for a cold (soft) drink and check out today's agenda. Bands-a-plenty?, well yes!, so we zip around finding shade where we can until someone plugs in the main stage and Blissfields come to life.
Fridays bands add to the mellow festival vibe, as everyone does their level best to chill the hell out and stay reasonably cool. The main stage is in full on direct sunshine throughout the day, and must have been one massive sweat lodge for those busting their asses pushing out the funky grooves. The main stage keeps us occupied for several hours and the tunes are heating up as we venture forth. Around 5ish (or maybe 6ish) we are graced with a proper bouncy lot and bear our shiny bits to get a full on ear load from non other that The Other Tribe – well stone me, these is the tits!.
Bounding ever onwards, we grab a cool refreshing beer and heave our asses to check out London Grammar and Fenech-Soler right before them dancin' maniacs The Mystery Jets run on stage and body pop their way through a bunch of back (and front) catalogue family favourites, to the feverish delight of them on the ground. A great set, with lights fantastic and the coolness of night to pop our 1970's bits to.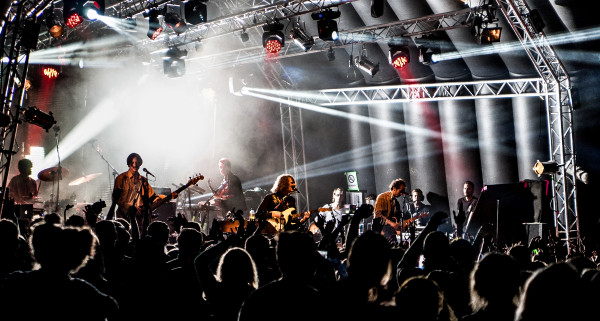 Saturday, its a Saturday – and its still as hot as hell with a log burner.
Well, today brings with it mucho heat, mucho scantily clad bods and a mutha load of fancy dress types, all sporting their fav Hollywood inspired costumes, some homemade, some very professional. Most have decided that a Top Gun ensemble would be best, with flight suits, logo t shirts, white officers uniforms, and even some really sweaty helmets (corrr!) – they all made an appearance and are all to happy to meet and greet their fellow costumee's. We, on the other hand decided not to draw attention to ourselves and stuck to the normal scruffy, beaten up look – with cameras.
Drinking water is great isn't it?, well we had good intentions but ended scooping a little early and hurting our frail wee innards.
The Silver Beatles do the Beatles and cover the Beatles – all of which is great, if you like the Beatles….. which most did, and some of the old saggy types even shook their replacement hips to the revamp golden oldies. Not long afterwards another retro flash gallops on stage – and Ska's the whole place right up. Them Dub Pistols do like a drinky on stage, they also like to throw said drinky all over me and my gear – that would be 4 years on the trot. Ta!….. But, I isn't phased cos Bastille are on soon and I know I'm gonna feel better. And I do, the crowd are going ape sheet for them popsters, who can actually do a good tune – and get all involved as their set picks up, I do however reserve judgement re the 80's mop cuts and eraser head throw backs. But I did have a good time…
I wish to thank all them who made it possible for me to be there again this very year – Cheers Alex, you are the star that guided them 3 wise dooshes.
I will see you again v soon. Stay Gold.
Review and Photos: David Livingstone