DE STAAT – I_CON
aaamusic | On 28, Jul 2013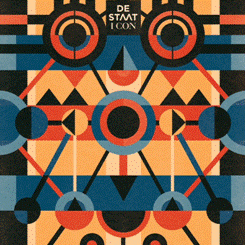 The new release from DE STAAT band (Nijmegen, Holland) shapes a fresh creative path in the new European alternative rock music. I_CON embraces varied influences from 80's new wave and songwriting to top electronic sounds and tribal rhythms, thus presenting stylish and successful experiments with blending of different styles. Compared with the previous mostly guitar albums, I_CON sounds more synth and sophisticated, while confident story-telling manner of singing persuades you that all the stories sung are true and all the slogans cried out are the direct  indications to action. This release shows how DE STAAT manage to perform different music techniques with a sense of reasonable balance.
As a listener, you are involved into a challenging journey through accurate and diverse tracks of the new release. Starting with a tiny demo piece of 'My Bad' and finishing with a sophomore symphony 'The Inevitable End', the album carries a certain message that DE STAAT music has enough sound tricks of high quality yet to be revealed to the attentive audience.
 'Build That, Buy That' is a march-like sticky tune with the insistent flute theme arguing with mocking guitars and sarcastic lyrics. The following track, 'Devil's Blood' opens with deceitful calming strings, jumps to perfect synth-pop line and turns out to be melodic romantic hit. Alarming fuzzes and counting rhyme verses shape the sound canvas of 'Witch Doctor'.
As for the strong whistle-along anthem, I_CON definitely has it. Meet 'Get It Together' – a piece that's easy to remember and hard not to move along with its rhythm line.
Perhaps, the most eclectic within the whole release 'Refugee' uses rhythmical tribal roots supported by the usual DE STAAT guitar and vocal landscapes. There is also a place for gentle ambient confession-like soul track in the new release – check for 'I'll Take You' if you ever become tired of the tough stoner rock guitar lines featuring almost everywhere on I_CON. Otherwise, explore 'Down Town' to enjoy street-preaching way of singing rock-n'-roll stuff.
Serving as a brilliant example of complicated, yet by no means dull alternative rock, DE STAAT carefully deal with all types of musical influences they experience, adding to their own music a healthy dose of experimentalism. In the I_CON release the band managed to combine the lyrics and the music in the closest union and invented a praiseworthy amount of addictive melodies and rhythms. You can share this exciting experience at DE STAAT European tour supporting I_CON album starting at the end of September.
Agnessa Yermakova