NEWS: ACTRESS live at Oval Space, with Shangaan Electro
aaamusic | On 30, Jul 2013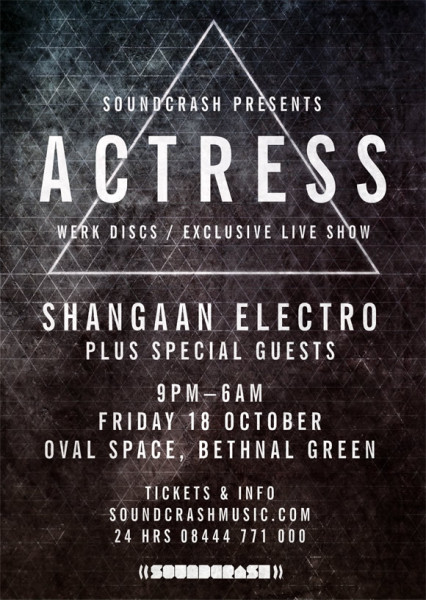 THE BIGGEST NIGHT OF THE AUTUMN. FULL STOP.
ACTRESS
(Werkdiscs / Live)
SHANGAAN ELECTRO
(Soweto / Live)
Plus very special guests…
FRIDAY 18 OCTOBER AT OVAL SPACE
EARLY BIRD TICKETS GOING FAST HERE
Soundcrash extremely is proud to present a club night like no other, pitching techno's most fascinating figures Darren J. Cunningham aka Actress against the infectious marimba madness that is South Africa's Shangaan Electro. A club night not apt for the faint-hearted and certainly not for those with an aversion to full-on rave action. Tickets will sell very quickly for this one so don't delay and bag yours early to avoid disappointment. We'll see you on the other side.
Actress has in the last 5 years of running the Werkdiscs label set himself apart as one of the hottest A&R scouts within his field, having discovered and released some of the most widely talked about artists of the emerging bass generation, namely Disrupt, Zomby, Lukid and Starkey. As Actress he produced the exceptional "Hazyville LP" drawing cries for a Mercury Award Nomination. He's remixed Various Production, written for the seminal techno imprint So-ma Records and has released 'Splazsh' more recently 'R.I.P' album on Honest Jons, the British independent record label created and founded by Damon Albarn.
"Incredibly talented and well respected" (Boomkat)
"An artist so underground that even his own friends doubt his existence" (Dazed & Confused Magazine)
Shangaan Electro is the high-speed dance phenomenon from South Africa that is rising from streets into clubs, homes and venues all around the globe. The creation of charismatic producer, record label mogul and businessman Nozinja,  this is a very contemporary product of Africa. Hailing from rural Limpopo but now based in Soweto, Nozinja saw the chance to update Shangaan music for the 21st Century, replacing its traditional bass/guitar instrumentation with midi-keyboard sounds and repitched vocal samples (in English and seemingly sampled from rave anthems). Propelled by jacking four-to-the-floor beats and trademark drum-fills, the sound quickly became a hit at weekly street parties in Soweto, with young and old competing to show off their moves to this dizzyingly fast music, which can reach speeds of up to 188 beats per minute.
The craze soon went viral in Europe and the US via a vast archive of youtube videos (several million hits and counting), catching the attention of Damon Albarn's Honest Jon's label who released the seminal Shangaan Electro compilation in 2010. The universal acclaim received for this release led to countless invitations for the group to perform around the world, and the group have since performed scene-stealing turns at Sonar, Roskilde and Sydney festivals as well as Berlin's Berghain to name but a few. Now they arrive to London. You better watch out!
"It's fantastic, best thing I've heard for a long time. It's how music should be" – Karin Dreijer Andersson (The Knife)
"The future sound of Africa…[and] a curveball for UK dancers" – The Quietus
"Daring… wildly inventive… [and] a rare depth charge in dance music circles, reminding us of the myriad musics people use to inspire movement" – Pitchfork