TALK IN COLOUR – Rushes
aaamusic | On 31, Jul 2013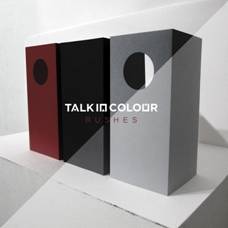 Cello, harp, guitar, keyboard, drums and a clean and sensual voices are the elements that make peculiar Talk In Colour and their sound that the band dubbed Cinematic Future Pop; it sounds difficult combining so many different ingredients but their last work EP Rushes lives on a perfect – and apparently effortless – balance.
'Rolling' opens the record, the intro is a long pulsed beat accompanied by electronic effects in the background that leaves the way to a clean sound and lead singer Mary Erskine's enchanting voice, a clean and deep tone that will hypnotize you and drag you into the lyrics, before the song gently explodes into a electronic-pop ballad.
'Candles' is definitely my favourite of the three. The percussions give the tune an hypnotizing rhythm and when Erskine – her voice goes a key lower – is joined by the background voice, the song assumes a tribal dimension, halfway between a chant and a tune danced around a fire below the nocturnal sky. It reaches its highest point trough the end when the refrain is repeated till it fades away.
The brief but intense journey comes to an end with 'The Cell' where Chris Bangs takes part into the choir, giving the song a new intensity. Drums and keyboard travel along reproducing the contrast of the voices.
The only doubt is whether the band will be able to reproduce this ensemble of sounds and effects live, but other than that their songs are small jewels, new and fresh air in these days of folk frenzy.
★★★★★
Monica Guerrasio