ZERVAS & PEPPER – Lifebringer
aaamusic | On 01, Aug 2013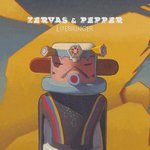 Welsh duo Paul Zervas and Kathryn Pepper are singer songwriters who create sparkling 'cosmic folk rock' reminiscent of 1970's California. In 2011 they released their fine debut album Somewhere in the City.
Their second album Lifebringer, released on 22nd July, 2013 on Zerodeo Records, was mostly written in Los Angeles. Their fellow musicians on the album are  Andrew Brown (bass), Jack Egglestone (drums) and Simon Kingman (lead guitar). Guest musicians include Jon Thomas from Aqualung (steel guitar), Kris Jenkins from Super Furry Animals (percussion) and Lee Goodall (woodwind).
'Buffalo Crow', the story of a man's search through a desert to find a medicine man to perform a ritual, creates a sound reminiscent of Crosby, Stills and Nash's harmonies. The acoustic and orchestral  'Jerome' is a story about a father warning his son to leave his small town for the bright lights of a big city. Like classic melodic artists from Laurel Canyon in the Hollywood Hills, 'Lookout Mountain', has a soft and warm Americana feel, whilst reflections of Stevie Nicks of Fleetwood Mac can be found in 'One Man Show'.
Zervas & Pepper have drawn inspiration from the art, music and characters they have found on their travels. Their original, psychedelic songs have a soothing, relaxed and easy going feel which are  perfect for lazy, laid back summer days when one can enjoy a chilled bottle of Californian wine.
Anthony Weightman