HIDEAWAY FESTIVAL 2013 – Live Review
aaamusic | On 07, Aug 2013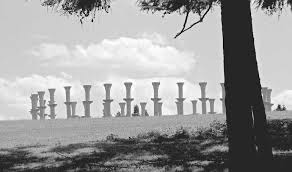 The Hideaway Festival was set within the private grounds of Fawley Hill (Henley-on-Thames), an estate owned by Sir William McAlpine in the Chiltern Hills. A full scale steam railway travels past the main house and around the beautiful grounds is an animal sanctuary with many exotic species. Occasionally a wallaby, llama or emu peers through the fence to see what inspiring music they might hear!
The exciting festival opener was the riff fuelled Tom Michell Trio, creating a thundering and infectious 'rockin' rhythm & blues'. Their set list included well-known classic cover versions from artists like Cream, Fleetwood Mac, BB King, Jimi Hendrix, The Who and John Lee Hooker, but they also played their own contagious and original material. 'Tie Me Up' was particularly raw, gutsy and passionate.
African inspired trio Voodoo Funk Collective, was an 'unsurpassed feast of red-hot, cooking electric jazz-funk'. There weren't any dark, mystical forces at work, no bloody sacrifices or evil zombies, just a spirit of fun.  They rhythmically merged funk, soul, and R&B with jazz and quickly the audience began dancing to the strong grooves.
Off The Radar, whose energetic music was 'born in the ashes of the Benson garage explosion', created catchy and thunderous punk rock. The 3 piece band were loud and brash with a passionate edge but also melodic, bringing sparkling indie whilst the sun shone brightly outside their performance tent. 'Novaya Zemlya' was very powerful with harmonic vocals and a slightly ethereal quality. With their third album 12 Shots From the Coffee Shop just released, they continue to be a band that's entertaining and unpretentious.
Megan Henwood is bold, earthy and colourful and writes folk songs that have a universal and timeless appeal. She a keen observer of human nature and sings with a strong, confident voice. Her debut album Making Waves was bright and refreshing and tackled very difficult political and personal subjects. Four years ago she won the BBC Radio 2 Young Folk Award with her brother Joe. Here, songs from Making Waves were combined with some of her original new numbers like 'Chemicals' which again firmly established  her talents as an outstanding British singer-songwriter.
Retrospective four-piece indie rock 'n' roll band Mellor write some memorable anthems and their nostalgic jive appeal stems from the fifties.  Their debut single 'Catch Me Girl', with its  catchy and simple Beatlesque lyrics, delighted fans. With harsh, raspy vocals they also tackled 'Take Me Out Tonight' by The Smiths from the alternative indie music scene of the eighties.
The quality of nine-piece band The Drop was evident when their devoted crowd refused to leave despite a torrential rain shower. Their heavy, melodic reggae, has memorable songs and hooks and they appeal with infectious melodies, deep bass-lines, fine grooves and the and the distinctive voice of singer Dandelion.
'Voodoo sci-fi blues' artists Vienna Ditto created rockabilly riffs and atmospheric electronica. Hatty Taylor (vocals) and Nigel Firth  (guitar and drums) share a love of dirty Chicago blues, dark psychedelia and the BBC Radiophonic Workshop. Atmospheric 'The Undefeated' was a haunting folk tale about a wandering creature whilst 'Whatever Comes My Way' was a sorrowful ballad. Quirky and sultry love song 'Liar Liar' , with rumbling drums and a quivering voice, was reminiscent of Goldfrapp.
The unpredictable and eccentric John Otway and Wild Willy Barrett have a fresh persona that shines through songs like 'Really Free' and 'Bunsen Burner'. John regularly injures himself by performing the song 'Headbutts' which involves hitting himself with the microphone,drawing blood. This time the fine but bizarre guitarist Wild Willy decided to put a hammer through his guitar. The two are adored for their joyous live appearances which show the depth of their wit and musical talents.
'Kennet Delta Folk' artists Dolly And The Clothes Pegs play skiffle, traditional songs, classic country, reworked pop covers and their own compositions. Much  whoopin' and hollerin' accompanied the harmonies and their multiple instruments included spoons, guitars, banjo, fiddle, mandolin, double bass, percussion,  harmonica, accordion and ukulele. 'Freight Train' , 'going so fast' and  written about a century ago, had a pleasant and rickety feel.
The Silver Rays raunchy rock and roll journey took the audience to the 'swampy roots of blues and soul' with pounding drums, strong bass and an edgy guitar. Their raunchy single, Money was exciting and the influences ranged from Led Zeppelin to Annie Lennox. Their gospel backing singers 'The Giddi Mama's' were irresistible.
Jazz inspired dub, Afro beat and hip-hop artists Nubiyan Twist blended groove driven music with a powerful horn section and soulful female vocals. Laid Blak drew fun and energy from their home city, creating urban reggae touching on jazz, funk, soul, dance and hip-hop, whilst 'totally bonkers' Hipbone Slim And The Knee Tremblers  mixed rock n roll, rockabilly, R&B and garage to perform with great fire and energy.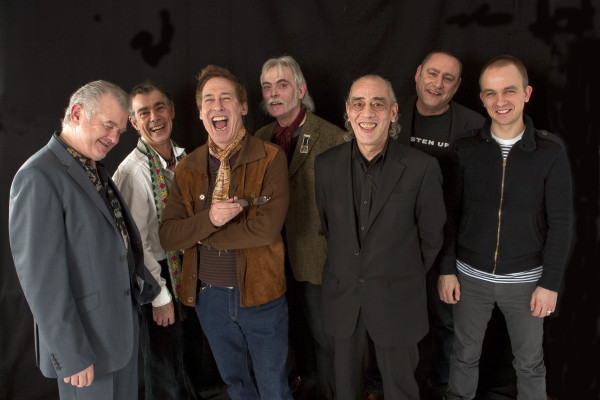 Closing the festival were iconic and quirky punk artists The Blockheads who eccentrically mix jazz funk, and English music hall. They developed an  idiosyncratic style that was cocky, funny, lovable and full of adolescent rudeness and, with the late Ian Dury, created songs that were clever, subversive and great fun. Here, their exciting and explosive anthem "Sex and Drugs and Rock and Roll',was just as energetic and vibrant as it ever was.
It was also good of them to pay a tribute to Wilko Johnson who now seems to be endlessly pursued by the media on a daily basis and their attempt at a 'Henley-on Thames' accent was hilarious. But, to use the dry and humorous poetry of The Blockheads, 'what a waste' it would be if we didn't see another  Hideaway Festival in 2014. Festivals naturally evolve, but this one should be given the chance to establish a personality and character of its own, so we'll be looking out for 'Reasons To Be Cheerful Part 2'!
Anthony Weightman