FAKE CLUB – Beauty Queen
aaamusic | On 16, Aug 2013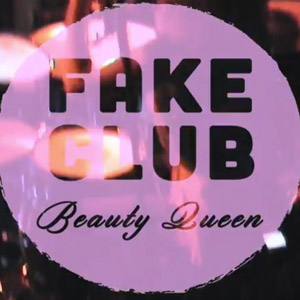 Energetic Punk-Rock group Fake Club's 'Beauty Queen' combines a scrappy Dance oriented sound from bands like The Ting Tings with the Punk-Grunge styling's of Courtney Love's hit band Hole resulting in an upbeat, gritty and lively tune.
Kicking off with a trademark offbeat Dance groove alongside the opening/ending tag line instantly and confidently sets an energetic 'in your face' tone for the song. Normally hearing the bass and rhythm guitar holding down the same melody throughout the verses would seem somewhat lazy, but in 'Beauty Queen's' case it allows the lead to ad-lib filling the space to great effect, sounding sometimes similar to Cage The Elephant's distorted Funk-esk guitar sound. The chorus sections move into a full Punk-Rock feel utilising the two guitars to full effect, one holding down the chords whilst the other keeps a melodic line throughout .The end section personally is a chaotically brilliant use of dynamics, screaming reverb, distorted vocals and thrashing drums raps this song up perfectly, sadly however is a short lived experience.
Lyrically it's hard to miss Fake Club's rebellious Punk message towards fashion and conventional 'high society', something that ultimately makes this track an authentic musical expression. This combined with the musicality would make 'Beauty Queen' a believable and very real track that for any Punk-Rock fan that hasn't yet discovered Fake Club.
Daniel Garnham