CROPREDY FESTIVAL 2013 – Live Review (Part 1)
aaamusic | On 19, Aug 2013
The 33rd Cropredy Festival, Oxfordshire
Every August, since the 1970s, the friendly and attractive village of Cropredy, near Banbury in Oxfordshire, has welcomed music-lovers of folk-rock to Fairport's Cropredy Convention. Organised by Fairport Convention itself, it includes children and grandchildren of festival-goers who've been returning to this relaxed atmosphere for years.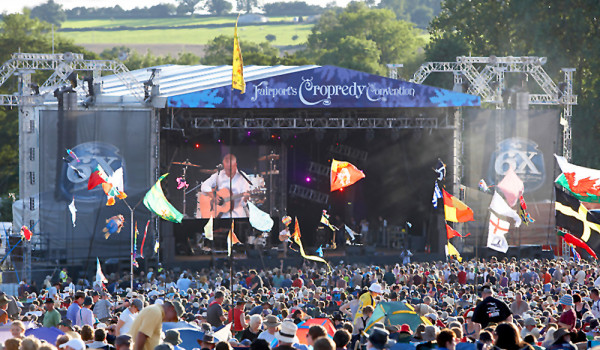 Thursday
The legendary Fairport Convention, celebrated for inventing the British acoustic folk-rock genre, opened the festival. They were formed during 1967's 'summer of love.' They're winners of the prestigious 'BBC Radio 2 Lifetime Achievement Award' and their classic Liege and Lief was voted  'the most influential folk rock album of all time' by Radio 2 listeners. Their intimate 'John Barleycorn' probably reminded folk historians of versions dating back to the sixteenth century, whilst the lighter 'Walk Awhile' was vibrant and inventive.
The late Jake Thackray was a fine poet and musician who loved the English language. He created very individual songs which were amusing, satirical, sharp, scornful and witty. He was marvellously 'un-PC' in his 1960s and 1970s heyday. Talented guitarist and vocalist John Watterson affectionately performs and celebrates these much missed songs everywhere and audiences continue to be delighted. He's rude, misogynistic, blasphemous, subversive and offensive. 'Our Dog' was hilarious whilst the outrageous 'Sister Josephine' was a curious tale about a transvestite nun.
Melodic British rock band Romeo's Daughter  is fronted by Leigh Matty, a singer with beautiful looks who continues to sing powerful songs . She was recently voted Number 5 'lady rock singer of all time' in Classic Rock Magazine. Together with Craig Joiner (guitarist, producer and songwriter), Ed Poole (bass and co producer) and Andy Wells  (drums), their  songs have been covered by Heart, Eddie Money, Bonnie Tyler and Steps. The catchy and tight 'Heaven in the Backseat' was once opener for the film Nightmare on Elm Street 5, whilst foot tapping 'Bittersweet' had some great riffs and a typically fine chorus.
Eighties English band Edward II plays an innovative fusion of folk, ska, world music and Jamaican reggae. Their sunny Caribbean dance rhythms are blended with traditional English country dance tunes and touches of jazz, soul, rap, and Celtic. It's a multi-ethnic band where the best moments tend to be the more-culturally blended songs. 'Dashin' Away' was fresh and funky and their invigorating version of 'Night Nurse' by Gregory Isaacs was fun and exciting. They observed from the stage that they'd never before seen 'mosh pit morris dancing.' Neither had I!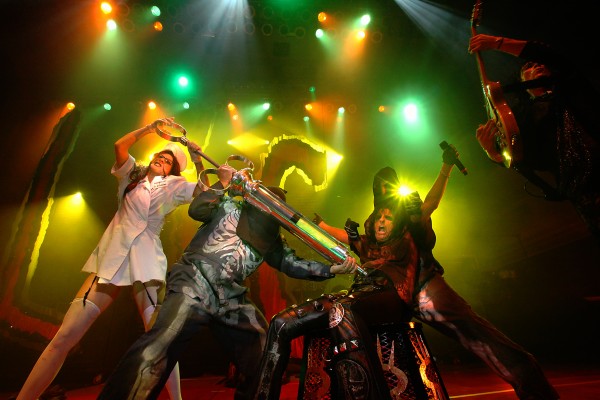 Gory American rock singer, songwriter, and musician Alice Cooper is an iconic part of music culture history. He's 'the godfather of shock rock', inspired by horror movies, vaudeville, garage and heavy metal and has had a six decade career with his theatrical stage show.  His music has odd changes of time signatures and jazzy influences. On stage at Cropredy he had a scary guillotine, a menacing electric chair from which a devilish Frankenstein monster emerged, sinister fake blood and a ferocious boa constrictor that hung round his neck. This was a grand visual performance designed to delight, thrill and impress. It was also good to hear enduring classics like 'No More Mr. Nice Guy' and 'School's Out' together with covers like 'Break On Through' by The Doors and 'Foxy Lady' by Jimi Hendrix. 'Be afraid Cropredy!' the audience was warned just before the last performance, but it's unlikely campers returned to their tents worried they would stumble across a headless Alice Cooper.
Friday
Opening Cropredy's second day were winners of this year's BBC Radio 2 Young Folk Award, the duo Greg Russell and Ciaran Algar. Last year they released their debut album The Queen's Lover and they performed pieces from traditional collections, contemporary writers and also self-written songs. Ciaran (fiddle, bouzouki, guitar, vocals) was a member of Celtic music band TRI and became an All-Ireland and All-Britain fiddle champion. Greg (vocals, guitar, bouzouki, English concertina) began as a solo artist supporting acts such as Lau, Karine Polwart  and Kerfuffle. He has a clear, soulful and natural voice and their collective enthusiasm and talent creates an exciting performance. The fine and energetic 'Davy' was great to listen to.
Danny and the Champions of the World are predominantly UK and American rock 'n' roll of the late 70s, but with elements of country, gospel and soulful folk. They're comparable to Bruce Springsteen, Nick Lowe and Tom Petty, with an early Bryan Adams vocal style. Some of their songs feel as if they've always been around, but one eventually realises it's just vivid imagination playing tricks. Often their songs are catchy and emotional. Sometimes they're fast, lively and optimistic, exploring freedom and ambition. Inspired harmonies about the American dream can be found in 'Soul In The City' whilst the passionate 'Can't Hold Back' is possibly one of their strongest songs.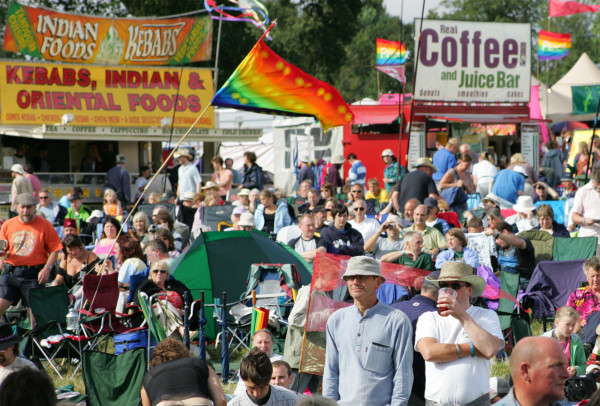 Husband and wife duo Sean Lakeman and Kathryn Roberts, ex Equation members, have had an important influence on folk revival. Earlier this year they won the BBC Radio 2 Folk Awards trophy for best duo. They have an instinctive love of music and their successful  earlier albums have blended many different styles. Kathryn, a strong, versatile and energetic singer, easily changes from meaningful ballads to stomping acoustic rock and Sean's quality production can easily be seen through fine, impressive arrangements. They're great songwriters who create tragic horror stories and whose warm songs are a joy to listen to. The 'Ballad of Andy Jacobs', backed by Kathryn's solo piano, was a sad, personal and beautiful song written about the 1984 miners' strike. Scandinavian folklore tale 'Huldra', meaning 'hidden people', referred to mystical forest living women who lured men to their downfall.
The Moulettes use strong female harmonies with fiddle and bassoon instruments to create a fantasy world of trolls, jilted lovers, pagan celebrations, tired travellers, highwaymen and witchcraft. Last year they released The Bears Revenge to critical acclaim, a crazy album of progressive-folk and classical song writing.  Emotional 'Songbird' had a delicious three way harmony and fine violin solo. 'Unlock the Doors'  mixed complicated vocals and deep bassoon with a  fiery cello. The Moulettes have cheek, mischief and a sense of drama.
Quintet Lunasa are an influential and innovative acoustic band, considered one of Ireland's finest.  They create tunes with breathtaking musical skill and have an amazing infectious rhythm. Superbly crafted traditional Irish instrumentals are welded to modern folk rhythms, jazz and progressive bluegrass. These qualities have made them unique in Celtic circles and, extraordinarily, there are no vocals at all.
English rock musician Martin Barre has been guitarist for Jethro Tull since 1969, appearing on every Jethro Tull album except their debut This Was in 1968. He's now formed New Day, but his traditional style has been described as a blend of Jeff Beck and Eric Clapton blues with the baroque influences of early seventies progressive rock combined with traditional European folk. The distinctive 'Minstrel In The Gallery' sounded just as cynical and introspective as it ever did and 'Thick As A Brick', with its underlying contempt  for pretentious 'concept albums', had the classic time signature changes and tempo shifts.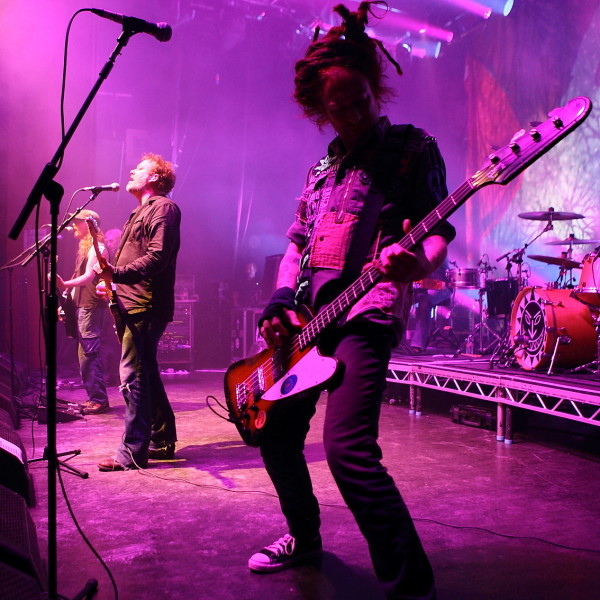 The Levellers music aims to be big, anthemic and an authentic part of folk rock. Without preaching they angrily look at greed, social alienation and the way that power can corrupt, and their social conscience has helped pluck them from obscurity. They still feel strongly about important issues that remain relevant today. Events that have influenced their music include the poll tax riots, the Falklands war and the annual battle for the stones at Stonehenge. Energetically they sung well known numbers like 'Beautiful Day' and 'One Way'. Possibly these songs were neither fine nor feeble to some festival goers, just mildly enjoyable. But, to devoted followers, they may have been masterpieces.
Completing the evening was 10CC, the English art rock band that had great success with classic hits  in the seventies, creating music that was polished, vibrant and professional. Their quirky songs have thoughtful, clever and witty lyrics. They played accessible numbers like the slow dancing 'I'm not in love', about a refusal to accept infatuation, and this touched upon the darker side of human nature.'The things we do for love' showed the vocal range and melodic warmth of singer Mick Wilson's voice, but there was certainly no 'walking in the rain and the snow' as festival goers slowly returned to their narrow boats or tents in the warm night air.
…Please click here for the final day of the festival: Saturday (Part 2)
Anthony Weightman