CROPREDY FESTIVAL 2013 – Live Review (Part 2)
aaamusic | On 19, Aug 2013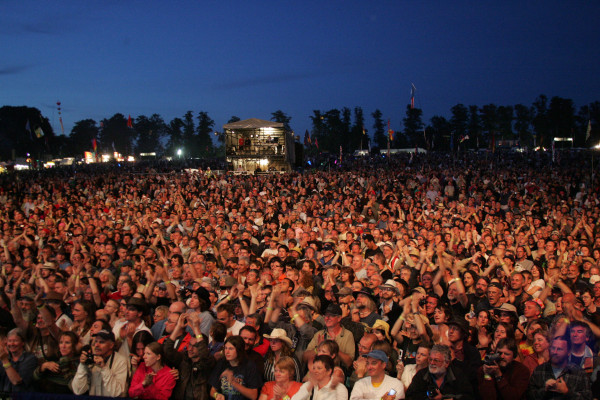 …Cropredy Festival 2013 Review Continued. Click here for Thursday & Friday (Part 1)
Saturday
Comedian, folk singer and guitarist Richard Digance, inspired by Billy Connolly,  always entertains in the first set on the final day of the Cropredy Festival.  He's a poet, author and songwriter with an extensive catalogue of guitar styles including folk, blues and country. His warm, relaxed and engaging style creates an  instant rapport with audiences that explode with laughter at his observations of life. Listening to stories about his colourful experiences is a bit like having a cosy drink with an old friend. He's promoting two new albums to his strong and loyal fan base and has been busy making his debut at the Edinburgh Fringe Festival.
The delightful Mediaeval Baebes, founded by Katherine Blake, are a classically  trained choral ensemble of female musicians. The 'fair maidens' include some of the group Miranda Sex Garden and together they share a love of mediaeval music. Listening to their songs you feel like a nomad crossing a mystical landscape in ancient times where compelling stories are helped by intriguing instruments. 'Undrentide' took us to that magical time of day when people go to sleep and fairies come out to play.  However, this is very accessible folk music despite the complex and imaginative vocal harmonies. The Mediaeval Baebes remain glamorous, resourceful and energetic artists with stunning voices.
Talented American acoustic guitarist and singer songwriter Brooks Williams combines folk, roots, blues, jazz, country and classical music and is one of the world's top 100 acoustic guitarists. He's steeped in the rural and urban blues traditions of the Southern States and has a good knowledge of music from his home state of Georgia, equally at home playing flat-pick, finger-pick and bottleneck guitar styles. His  impressive set  contained  'Deep River Blues', 'King Of California' and 'Sugar Sweet', respectively covers of songs by Doc Watson, Dave Alvin and Muddy Waters. He was chatty, pleasant and approachable, but at the same time seemed deep and intense.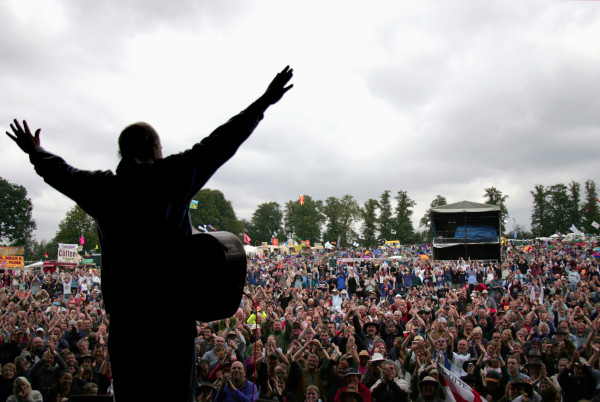 Acclaimed British folk rock quintet The Dunwells, from Leeds, Yorkshire, released  their debut album Blind Sighted Faith last year. Follow The Road, their second album, released this year on the Decca label, is vibrant and melodic with a rootsy folk-rock feel and a strong Americana core. Their catchy acoustic number 'Goodnight My City' was rich, charming and infectious. 'Blind Sighted Faith' had a tense, confident and energetic sound and in 'So Beautiful' the hesitant, soulful vocals contained a passionate declaration of love. The bluesy gospel feel of 'Oh Lord' sounded as though they sincerely meant every word they sang. Using vibrant hooks and driving dynamics The Dunwells build a momentum as they progress through their set list. They've been very popular in the USA and their impressive, soaring harmonies have largely contributed to  their popularity and success. They sing some fine songs and, unusually, harmonise with five quite different but well balanced vocals.
Six piece Celtic instrumental fusion band the Peatbog Faeries, from the Isle Of Skye in Scotland, are fast and infectious. They've created a high octane musical style by  merging folk, rock, jazz, trance, reggae and electronica. Their distinctive and experimental sounds  are created through  programmed effects and traditional Celtic arrangements played on whistles, bagpipes and fiddles. Described as 'the future of Celtic dance music' they've twice they've won Live Band of the Year at the Scottish Traditional Music Awards. Fast, fiery and hypnotic songs like 'Dancing Feet' and 'Folk Police' show how exciting they are.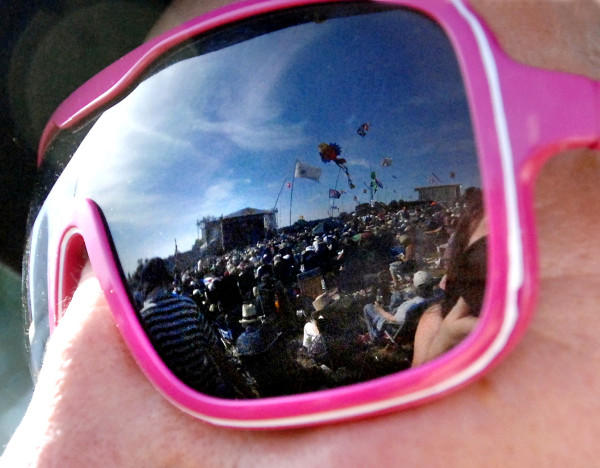 Singer songwriter and guitarist Nik Kershaw was a successful part of the rock and new wave 80s music scene. He wrote some of that period's most memorable songs and his impressive back catalogue of timeless hits have strong hooks and irresistible, sharp melodies. Listening to uplifting classics like 'I Won't Let The Sun Go Down' ,'The Riddle' and 'Have a Nice Life'' one realised that he was really a very good songwriter and that his knack for catchy tunes remains. These were lyrically rich, strong and intelligent songs. Reflecting on the fleeting nature of fame Nik said that he  'used to be a pop star', but he's unlikely unlikely to  fade away to become a part of music folklore. His loyal audience probably won't let him go.
The award winning actor, comedian and television presenter Jasper Carrott jumped on stage for a stand-up routine of topical humour. There was a very brief two line version of Paul Simon's 'Sound Of Silence' ! Then his comic eye fell on topics like drugs, age, death, children, religion, bureaucracy,  turnip farmers, education, dyslexia and political correctness. This was a hilarious side-splitting comedy set including some superbly funny stories. He ended on one about a blind bungee jumper whose labrador broke loose just before he hit the water.
At the end of this long musical day Ric, Peggy, Simon, Chris and Gerry of Fairport Convention invited Jethro Tull guitarist Martin Barre on stage and Tom Robinson sang his successful rocky travel song '2-4-6-8 Motorway'. Fairport's unofficial anthem 'Meet On The Ledge' is often performed as their last song and it's a sign to fans that the evening is at an end. My thoughts began to run wild and I imagined the late Sandy Denny singing 'The Pond And The Stream' with her haunting lyrics: 'She loves the freedom of the air. She finds a friend in every place she goes. There's always a face she knows.' Sadly, it wasn't to be. She would have loved this years festival.
Anthony Weightman