FAIRPORT CONVENTION – Rising For The Moon
aaamusic | On 29, Aug 2013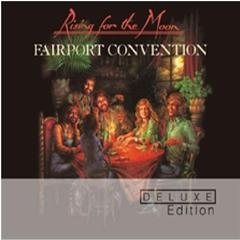 English band Fairport Convention, formed in 1967, are often seen as the most important artists in the world of folk rock. Their legendary album Liege & Lief is believed to have launched the folk rock  movement and helped create a broader interest in traditional music in general.
In 1969 they also recorded and released What We Did On Our Holidays and  Unhalfbricking, after which Sandy Denny left the band to form Fotheringay and pursue a successful solo career.
She re-joined Fairport in 1974, during four nights at LA's Troubadour Club, and an amazing live recording of these nights forms part of this new release on the second disc of the deluxe edition of Rising For The Moon. Six fine and gifted musicians formed this short-lived line-up:  Dave Pegg, Dave Swarbrick, Dave Mattacks, Sandy Denny,  Trevor Lucas and Jerry Donahue. The excellent soundboard recordings were made by engineer and studio owner Wally Heider.
The set list is a surprisingly cohesive mix of old, new and traditional songs and covers, with a collection from Sandy's solo albums. There's a lively cover of Bob Dylan's 'Down In The Flood' followed by Fotheringay's 'Ballad Of Ned Kelly', never to be performed again by Fairport , and the beautiful 'It'll Take A Long Time.' There's a passionate version of Dylan's 'Knocking On Heaven's Door' , 'Like An Old Fashioned Waltz' ,from Sandy's third album, and 'Crazy Lady Blues' with an additional verse never previously heard. In the superb and timeless  'Who Knows Where The Time Goes'  Sandy's  magnificent voice soars. This is followed by 'Matty Groves', the English folk ballad reinvented by the band in 1969 with a frantic fiddle and great guitar work. A very rocky version of Buddy Holly's 'That'll Be The Day' ends the set.
In 1975 producer Glyn Johns wanted the album Rising For The Moon  (now represented by the first of the two discs) to include only original songs, with no covers or traditional material. It included songs from all band members, but seven of the album's eleven tracks were written wholly or partly by Sandy Denny. During production Dave Mattacks left the band and was replaced by Bruce Rowland, who played on the remaining tracks.
The excellent title track was re-recorded by the current Fairport line up on 2011′s Festival Bell album. Written by Dave Swarbrick and Ralph McTell, the slow waltz love song 'White Dress' was chosen as the album's only 7" single. Trevor Lucas' upbeat 'Iron Lion' has a guitar driven rock and roll feel and there's the studio version of Sandy's enchanting 'After Halloween'. The closing track 'One More Chance' succeeds through the good piano melody, excellent guitar work and heartbreaking vocals. 5 tracks now added to the original album are the beautiful, previously unreleased performance of 'White Dress' (discovered in the LWT archive), an alternate mix of 'Dawn', a Sandy and Trevor studio demo of 'What Is True' and Sandy's home demos of 'After Halloween' and 'King And Queen Of England' (the latter written for the original album but never recorded).
In the seventies Rising For The Moon was a strong, tight and confident album,  perhaps underrated and overlooked, but Sandy's fine, graceful vocals still sound fresh four decades later. The original recording put huge pressures on the band and, by the closing of 1975, Sandy Denny, Trevor Lucas and Jerry Donahue had all moved on to other things.
 Anthony Weightman