Skindred join Airbourne and Black Star Riders for Hard Rock Hell 7…
aaamusic | On 27, Sep 2013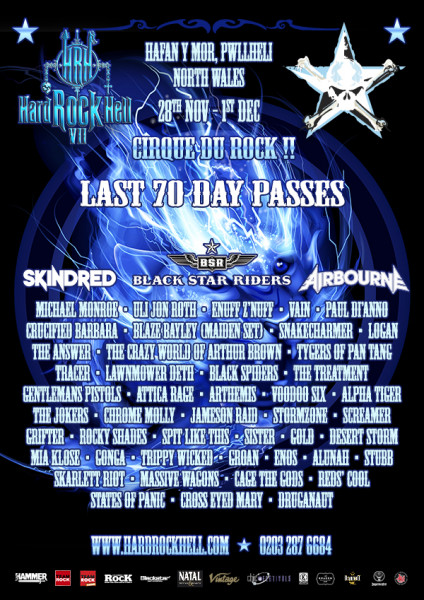 Hard Rock Hell are pleased to announce the addition of Festival favourites Welsh Ragga Rockers Skindred to this winter's bill, rounding off what  looks like being one of the best Hard Rock Hells to date.
Skindred join the likes of Aussie rockers Airbourne, Black Star Riders and Mike Monroe for this November's seminal SOLD OUT event. The event has been sold out since May but a limited handful of day tickets had been kept back and have been made available to support the addition of the new acts.
HRH are also pleased to be able to announce the addition of Germany Power Metallers Alpha Tiger plus a welcome return for Cambridge rockers The Treatment and Scotland's finest Logan and Attica Rage who both come back to join this year's festivities.
Other acts also added include stoner rock act Gonga, The Jokers, Massive Wagons, Cross Eyed Mary & an acoustic set from Mia Klose.
Skindred front man Benji Webbe says "Bring the dead and we'll bring them alive! There's only two things a crowd can do while me and the boys are rocking a stage – It aint about people watching us it's about us ALL rocking together. Can't wait to step on stage and bring the noise! "Hard Rock Hell! Prepare to be rocked!!!"
To Watch Skindred's video for Warning click below
http://www.youtube.com/watch?v=mNaT0t67E14
To watch Skindred's new lyric video to their taster Track Ninja featuring the voice of Arthur Brown from  their forthcoming album Kill the Power click below.
http://www.youtube.com/watch?v=LuC3n7brNmo
HRH 7 (aka Cirque Du Rock) takes place November 28-30 at Hafan Y Mor Holiday Park in Pwllheli, North Wales.
………………………………………………………………………….
The line-up so far:-
Black Star Riders
Skindred
Airbourne
Michael Monroe
Uli Jon Roth
Enuff Z'Nuff
Vain
Paul Di'Anno
Crucified Barbara
Blaze Bayley (Maiden Set)
Snakecharmer
Logan
The Answer
The Crazy World of Arthur Brown
Tygers of Pan Tang
Tracer
Lawnmower Deth
Black Spiders
The Treatment
Gentlemans Pistols
Attica Rage
Arthemis
Voodoo Six
Alpha Tiger
The Jokers
Chrome Molly
Jameson Raid
Stormzone
Screamer
Grifter
Rocky Shades
Spit Like This
Sister
Gold
Desert Storm
Mia Klose
Gonga
Trippy Wicked
Groan
Enos
Alunah
Stubb
Skarlett Riot
Massive Wagons
Cage The Gods
Reds' Cool