THE LOST CAVALRY – Three Cheers for the Undertaker
aaamusic | On 30, Sep 2013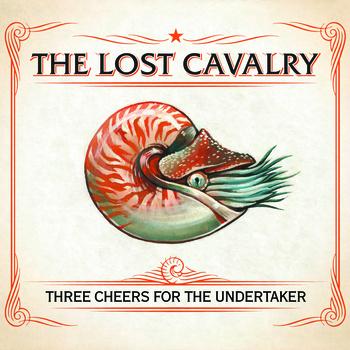 On first listen of The Lost Cavalry's album, Three Cheers for the Undertaker, I found myself calling my boyfriend and telling him that this review would be impossible. I said that while the individual songs are impressive, when put together they seem to blur and lose their magic.
However, considering The Lost Cavalry is a six-piece band, the resulting album could have been a mess of instruments. Instead, after listening to the album a couple of times, the way the songs blend together, became one of the major reasons as to why I found this album so easy to listen to.
I contribute my initial hesitation over the songs when heard together to the violin. Though initially a refreshing change, it begins to feel as though you've heard it already a couple of tracks ago. Though the more I listened, the more I think the album would have lacked without the string instrument.
After my single review of 'Stars Are Ripe', it remains my favourite track off the album. But, picking a favourite is like picking a puppy out of a litter- they're all great. However, the runt of the litter is 'Only Forward'. Though the most traditional folk sound of the album, the vocals sound off when it is just Mark West and the ukulele, he needs the back up of the band for the strength and unique tone of his voice to come across.
'Mono' is a stirring track. However, I have never been a fan of the effect where it sounds like static in the background. Therefore, the use of the effect on this track only made me check to make sure I hadn't blown my speakers.
Three Cheers for the Undertaker is an album that you can have on all day, whether you are just getting on with your daily routine or if you have friends over, and know that this is a complete album, each song meaningfully placed, with no ugly surprises. However, I think this is my problem with the album. As though there are no ugly surprises- there are no surprises.
Therefore, when writing this review, I can compliment the control of the band, Mark West's unique tone and the individual tracks as brilliant, though the only substantially different track didn't stir me. It is an album reliant on consistency. This only pulls off because it is consistently good, though not the most exciting.
Released on 16th September, Three Cheers for the Undertaker is a positive debut album for The Lost Cavalry, with the album release party at St Pancras Old Church in London on the 18th September. Now that they have the consistency behind them I look forward to a little more risk-taking to follow.
Rachael Pilkington